4 reasons gadgets make special Valentine's Day gifts
From smartwatches to smart speakers, the latest gadgets offer an alternative to traditional Valentine's Day gifts. Candy hearts, roses and chocolate are fine, but innovative tech gifts will show that special someone you're creative enough to look beyond the ordinary.
1. Capture every moment with ease. 
Flowers wilt, chocolate melts, but tech gifts create memories that last a lifetime. The DJI OSMO Pocket Camera shoots 4K Ultra HD video and takes pics with the 12 MP camera. It's easy to use and compact, so it can be taken on all your adventures. The 3-axis handheld gimbal adjusts to your movements for smooth, steady, shake-free shots. The 1.08-inch touchscreen display provides a clear view of what you're recording or reviewing. A universal port is included so you can connect the Osmo Pocket to your smartphone and other accessories. 
Check out other photo accessories that will be sure to make your Valentine smile.
2. Straight to the heart (beat).
Today's gadgets are more than just fun toys, they're helping us take better care of ourselves, and each other. By gifting a loved one a Fitbit wristband or smartwatch, you'll empower them to monitor and optimize their heart rate, fitness activity and sleep patterns. In essence, you're giving the gift of good health, and what could possibly be better than that?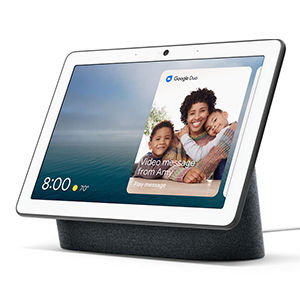 3. Provides a soundtrack for your relationship.
With a brand new connected speaker, you'll be able to enjoy your favorite music together in remarkable clarity. The JBL Link line of speakers come with voice-activated controls that allow you to seamlessly stream audio from your smartphone or tablet. And with 24 bit/96kHz high-quality sound and a durable, waterproof design, it's the perfect device to take with you on the go.
4. Gadgets to make life a little easier.
It's one thing to treat your partner to a spa day or a night out with friends, but a gadget can help relieve stress all year round. A Google Home smart speaker is a great way to make organization and planning a whole lot easier. Using the device's voice-activated Google Assistant software, your partner can ask for and receive their upcoming schedule for any given day, in addition to news updates, weather forecasts, recipes and so much more.
Want more gift ideas? Visit Verizon's accessory section for a full selection of the latest tech gear.
This content is provided for information purposes only. All information included herein is subject to change without notice. Verizon is not responsible for any direct or indirect damages, arising from or related to use or reliance of the above content.