How to Pick the Best Phone Plan for One Person
Picking your own phone plan for the first time? Good news: creating a plan is simple, and you can do it online, on your couch and on your own time. Follow this step-by-step guide to set up the best phone plan for your needs.
Step 1: Figure out your budget.
Budget is the first big decision. Set yours, and then eliminate any plan that falls above what you can comfortably spend every month. (And don't forget to include taxes and fees.) A few things that might help (or hurt) your total cost:
Some plans offer discounts for auto pay and paperless billing.

Watch out for overage charges. You'll either have to closely monitor your data or turn on Safety Mode, which slows loading times once you've reached the data cap.
Step 2: Figure out your data needs.

You can do this in one of 2 ways: 
First, if you currently share a plan, ask the account manager to tell you the monthly data average for your line using the most recent statement. 
Second, if you're unsure of your current usage, use these estimates:
Less than 2 GB per month: you mostly just talk and text.
3 to 4 GB per month: you stream music, upload photos on social and occasionally surf the web. 
6 to 8 GB per month: you stream video and spend a lot of time online.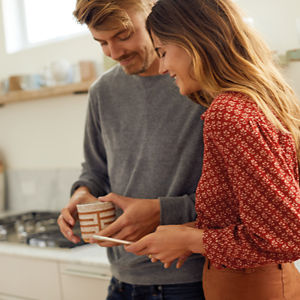 Step 3: Check out Verizon plan options.
Verizon has 3 general plan categories: Unlimited Plans, Prepaid Plans and Shared Plans. Each has different tiers with different costs and data options. Below is a simple price overview; for a more detailed side-by-side mobile phone plan comparison chart, check out our plans page. 
Each of Verizon's 4 Unlimited plans comes with unlimited talk, text and data (translation: no overage charges ever). Be sure to go to the Verizon Unlimited page for details on plan pricing and more. There are 4 different Unlimited plans you can choose from:
Start Unlimited

Play More Unlimited

Do More Unlimited

Get More Unlimited
With prepaid you can pay in advance for monthly voice, text and data services. There's also no credit check, deposit or long-term contract required. Only pay for what you need. There are several Prepaid plans to choose from so you can get the on the best fits your needs.
If you need to get your own plan and add someone else, these offer premium, 4G LTE high-speed data to share with up to 10 devices, unlimited talk and text, unlimited international messaging from the U.S., mobile hotspot and more. 
S 2GB

M 4GB

L 8GB

5 - 5GB 
If you need more data but have a limited budget, you'll have to cut back usage. One tip: eliminate apps that use the most data or set them to run only on Wi-Fi.
Step 4: Choose a phone.

Once you've figured out budget and data, you'll enroll — and then pick a phone. Click here and follow the prompts to select the Verizon plan you want, then click "Choose devices" on the next page. 
You have 2 options here: 
Purchase a new device. Any new device has 2 charges: an upfront charge and a monthly fee. You may be able to lower the latter if you're trading in your current phone. (When asked if you want to trade, select "yes" to begin the appraisal process.) If you're just getting a new phone and not trading one in, scroll through the options and watch for details to pop up on the upfront and monthly charges.

Use a phone you already own (with Verizon BYOD you can do this even if you're coming from a different carrier). Either way, you can transfer your existing number. If you plan to keep your current phone, click "Bring your own" at the top of the page to set it up.
No matter which option you go with, you will have a one-time $20 activation fee (which is a $20 savings for enrolling online). You can add an optional $17 per month for Verizon Protect device protection to cover unlimited screen repairs, same-day phone replacements and more.
Step 5: Know the lingo.
Owning your very own account means you're in charge of how everything is set up. That includes:
Account owner: that's you! All Verizon accounts can have only one account owner. 
Account member: additional people who have lines on your account. If friends or family want to join you, you can add up to 10 people. (And more people can mean less cost per line on an Unlimited plan.)
Auto pay: setting up your bill to process automatically can cut $10 a month off an Unlimited plan. 
My Verizon app: sign in to your account dashboard to access your statement, pay your bill, check your data usage, add members, change your plan (at no charge) and more.
Get familiar with your new plan.
Managing a Verizon plan is a lot like signing up for one — simple and straightforward. To get acquainted with your new responsibilities and capabilities, visit My Verizon and take a self-guided tour. We're always here to chat, too.
All steps, plans and packages are subject to change.
This content is provided for information purposes only. All information included herein is subject to change without notice. Verizon is not responsible for any direct or indirect damages, arising from or related to use or reliance of the above content.