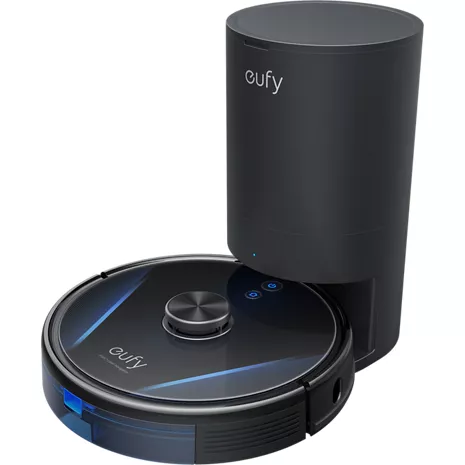 Pestaña Resumen seleccionada 1 de 4
Inicio de sección Resumen
Keep your floors clean with the RoboVac LR30 Hybrid+.
Multi-floor mapping creates cleaning maps for up to 3 levels in your home and automatically recognizes the floor it's on once it's set down.
The 7-ounce electronic water tank is controlled through the app and allows you to switch flows based on whether you're cleaning carpet or hardwood.
Use Amazon Alexa or Google Assistant to control your robovac hands-free.
Program in no-go zones, so it doesn't get stuck in unwanted rooms.
And, with the child safety lock, you can prevent kids or pets from accidentally starting the vacuum when you're not watching.
Ultra-strong suction.
With 4 cleaning modes, the robovac provides up to 3,00 Pa suction power to pick up dirt, crumbs, pet hair and more for superior cleaning performance.
Hands-free cleaning.
The auto-emptying system provides an antibacterial and deodorizing dust bag that can be used for up to 60 days before needing replacement.¹
iPath laser navigation.
Advanced LiDAR technology scans your home to build a real-time map, allowing it to navigate through your home or apartment throughout the day precisely.
And, it uses a Z-shaped path for a more efficient cleaning cycle.
¹According to eufy laboratory data.
Duration will vary depending on your home environment and number of pets.
Reseñas
100% of reviewers recommend this product.
Absolutely Amazing!
Sí, recomendaría este producto.
[This review was collected as part of a promotion.]
I definitely like this slick nice vacuum device.
When you download the eufy app you can control which area in your house you want your vacuum to go.
This vacuum scan the area picks up trash and when it is done and full it goes back to the bin and automatically dump out the trash on its own!
Not only the vacuum setting is amazing, the mop setting is as well.
It picks up every dirt and keeps the floor clean and shiny.
I highly recommend this eufy device if you want to relax and enjoy a clean with little to no effort of controlling the eufy device!
anker.com Publicado originalmente en anker.com
Works great!
Leidy1002 . 10 meses hace
Sí, recomendaría este producto.
[This review was collected as part of a promotion.]
This is the first robot vacuum I own.
As a beginner user I must say it was really easy to setup and use.
Putting it together was a simple task, the app guides you through the quick setup process.
This is a powerful machine, with 4 different suction levels, it is capable to clean every nook and cranny.
Able to pick up dust, pet hair and little crumbs with no problem.
The mop function is alright.
It doesn't scrub hard stains, but it does a good job wiping and cleaning the little bit of dirt left behind.
Plus it's saves me the extra work involved with manual mopping.
The app is user-friendly, even for beginners like me.
I love the fact that I am able to control everything there is to it with it.
The performance of the eufy RoboVac LR30 is outstanding, it has made cleaning around the house an easy task.
I recommend.
anker.com Publicado originalmente en anker.com