carrusel con 1 diapositivas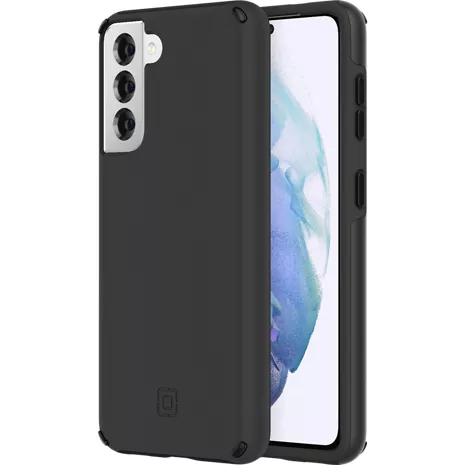 carrusel con 1 diapositivas
Free returns within 30 days.Details
Protect your phone from drops, bumps and dings with the Duo Case for Samsung Galaxy S21. This sturdy 2-piece case features Incipio's new Impact Strut technology and a 0.7 millimeter raised face-bezel, to provide up to 12 feet of drop protection.¹ The soft-touch and scratch-resistant design keeps your case looking newer, longer and avoids discoloration. The built-in antibacterial treatment reduces bacteria that promote stains and odors by up to 99%. And it's wireless charging compatible, so your case won't interfere with your service or with charging your phone.

¹Based on independent testing.
Reseñas
33% of reviewers recommend this product.
Reliable protection - although limited colors
PinkNighrmare . 4 meses hace
I've been using the Duo for a few years now and think it's offers a good balance between protection and girth. That is, it adds minimal size/weight to the phone while offering good protection. However, we're disappointed that it's not offered in a wider variety of colors to make it easier for people in our household to visually distinguish one person's phone from another person's visually, quickly. The black and dark blue are too similar in color leaving the only other option that hideous 'salsa red'.
Customer Service - 4 months ago
Thank you for taking the time to share your rating with us. We very much appreciate it. We love hearing from our customers and we're always looking for ways to improve our products. We've passed your feedback on to our product team. If there's anything we can do, please feel free to reach out at support@incipio.com.
incipio.com Publicado originalmente en incipio.com
Keeps my phone safe in the field!
Ourdoor Girl . 6 meses hace
Sí, recomendaría este producto.
I have been using this case on my phone for nearly a year now and the phone is still in great shape! I work outside for my job and have dropped my phone more times than I would have liked. The case is still intact other than the fact that the textured "paint" (I'm not sure what it's actually called) is peeling off. I have had this stuff peel off all of my incipio cases within a year of getting each of them. The integrity of the case is not diminished by this, but the appearance is. I just have to buy a new case every year if I want it to look nice. Also, I wish there were more color options, especially a more deeper blue.
Customer Service - 6 months ago
Thank you for taking the time to share your rating with us. We very much appreciate it.
incipio.com Publicado originalmente en incipio.com