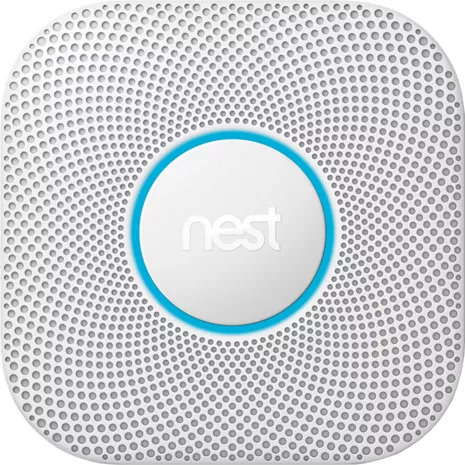 This item is currently only available for Express Pickup. 
Select a store to continue.
Pestaña Resumen seleccionada 1 de 4
Inicio de sección Resumen
The Nest Protect smoke and carbon monoxide alarm is a "smart" smoke and carbon monoxide alarm.
That means it thinks and speaks, alerts your mobile device when something needs to be reported and keeps you in the know so you spend less time worrying when you're away from home.
New for 2015 - the Nest Protect has an industrial grade sensor, can differentiate between slow and fast-burning fires, and its alarm can be silenced from your mobile device.
It also runs its own tests, and the carbon monoxide (CO) detector lasts for up to 10 years.
Use it with the Nest app for access to extra features like silencing your alarm when you're not at home, or use it on its own: the new Protect is a functioning, code-compliant smoke and CO alarm even when it is not paired to an account.
A smoke alarm that communicates with you
With the Nest Protect, you receive notifications via your smart device in cases of smoke and carbon monoxide, when batteries are running low or if a sensor isn't working.
So there are no unpleasant surprises when you come home after a day - or a vacation - away.
And did we mention it's smart?
If it detects a full blaze, the Nest Protect flashes red, sounds the alarm and tells you it's time to head for the door.
If it's just a bit of smoke, it glows yellow as a precautionary measure.
It identifies and locates the danger for you
The Split-Spectrum Sensor looks for fast and slow-burning fires, and the 10-year carbon monoxide sensor tells you where the poisonous CO is hiding.
If you have multiple Nest Protect units throughout your home, you can designate each one a name based on the room it's in, so your alerts will have even more detail when something occurs ("smoke detected in the kitchen", "fire in the bedroom", etc.).
Silence the alarm from the Nest app
We've all done it - pizza in the oven too long, burnt toast - there goes the alarm.
No problem. Just use the Nest app to silence the Nest Protect smoke and carbon monoxide alarm from your smart device.
Useful, convenient, and never annoying
The Nest Protect checks itself over 400 times per day to ensure it is working properly and will let you know if something is wrong.
The Steam Check feature means a long, hot shower won't cause your alarm to flare up, and as you walk underneath the Nest Protect at night, the Nest Protect smoke and carbon monoxide alarm senses your movement , triggering the white Pathlight to light your way.
Nest Protect helps ensure a restful night's sleep
That low-battery chirp at 2 a.m. is never a pleasant wake up call.
Nest Protect smoke and carbon monoxide alarm shows you everything is ok before you go to bed with the Nightly Promise feature.
A green glow when you turn out the lights means the batteries are good.
Works with your Nest Thermostat and Nest Cam Wi-Fi video camera
If the alarm goes off, Nest Protect smoke and carbon monoxide alarm tells your Nest Thermostat to turn off the furnace, which is the most common source of carbon monoxide leaks and can spread smoke around the house when there's a fire.
Your Nest Cam Wi-Fi video camera will record a clip while the alarm is going off so you can see what happened.
Easy installation
Both the wired and battery versions of Nest Protect smoke and carbon monoxide alarm take only minutes to set up with your iPhone® or iPad® or Android® device.
Once they are connected to WiFi, every Nest Protect in your home will automatically connect to the others.
Reseñas
99% of reviewers recommend this product.
Slick
Sí, recomendaría este producto.
Install was quick and easy.
Set up was the same.
Wish it would sync with Google Home. But Believe this is in the works.
Google LLC Publicado originalmente en Google LLC
So Far, So Good!
So yeah, set up and installation was easy.
It hasn't actually been alerting us of an actual fire (thank goodness), but the testing worked well.
The "light' they say illuminates the room when you walk in is underwhelming (as in not really), but yeah, you won't be tripping over anything in the room, because you can at least see what is around (kinda).
Google Customer Care - 1 year ago
Hi Caffy, thanks for sharing the details of your feedback about the Nest Protect.
We're sorry to hear that you came across this Pathlight feature issue.
We have tested Nest Protect's light brightness range to ensure the best performance while preserving battery life.
The default setting is bright enough to light your way in the dark without draining the batteries quickly.
Changing the brightness will affect its battery life.
Nest Protect's long-life LEDs have been rated to exceed the product lifetime (7 years for 1st gen Nest Protect, 10 years for 2nd gen), so Pathlight should work for as long as your Nest Protect does.
To change settings: - Tap the Settings Nest settings icon on the Nest app home screen. - Scroll down and select the Nest Protect that you want to change settings for. - If you want to change Pathlight brightness, select Brightness.
Then choose Low, Medium, or High. If you want to switch Pathlight on or off, Select Nest Sense, then select Pathlight.
You can then set Pathlight to On or Off. If you have a wired Nest Protect, you can also choose Always On. Important: The brightness and on/off settings you choose will also affect the Nightly Promise light.
However, even if the light is set to off, your Nest Protect will continue to test itself and the Nest app will let you know if everything is OK or if there's a problem. - Changes to Nest Protect's Pathlight settings will take effect within a day for a battery-powered Nest Protect and within an hour for a wired Nest Protect.
A clock icon in the app indicates the pending change. - To update Pathlight settings immediately, press the button on your Nest Protect once.
We're always here to help improve your experience and you'll find us available through our support channels here: https://support.google.com/googlenest/gethelp
Google LLC Publicado originalmente en Google LLC