Debido a la inactividad, tu sesión finalizará en aproximadamente 2 minutos. Prolonga tu sesión haciendo clic en "OK" a continuación.
Tu sesión ha terminado debido a inactividad. Vuelve a ingresar para continuar.
How to Swap Phones on Your Account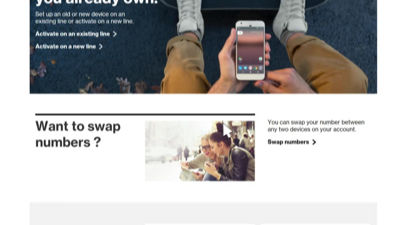 (Duración de video - 1:54)
Mira este video para saber cómo intercambiar tu dispositivo con otra persona en tu cuenta.
how-to-switch-device-video:

Transcripción del video
How to Swap Phones on Your Account (1:54)
How to Swap Phones on your Account
Verizon facilita el intercambio de dispositivos con otra línea en tu cuenta. Esto garantiza que cada persona conserve su plan y su número de teléfono pero se deberá cambiar el dispositivo.

Entra a Mi Verizon y selecciona Activar o cambiar dispositivo en el menú de navegación Mis dispositivos. Select switch from the options on the page. Next choose the two devices that you want to switch, and click next.

If your current equipment protection isn't compatible with the phone you are switching to, you'll be prompted to make a new equipment protection selection and confirm to review the changes you made. There's also a chance that when you switch devices, the data plan that each device has may not be compatible. If this is the case, you'll get prompted to change your data plan. Select the plan options you want and click Confirm. Review your changes and click Confirm Feature & Plan Changes.

You'll then be prompted to back up and transfer your contacts and media. There are several methods to choose from, click to get instructions to for each. Deberás hacer esto con ambos dispositivos. Once complete, click continue.

Before you complete the swap, it is important to note that this cannot be undone. Be sure that both of your devices are off before you complete the process. Click Swap Devices to automatically swap your phones. Click Yes to confirm both devices are off and you are ready to swap them.

Once your switch is complete, follow the on-screen set-up assistant on each phone to complete activation and set-up. You'll then want to dial #832 to make a free test call to confirm voice activation and launch your internet browser to confirm data connection. If your tests are not successful, click the Chat with us button at the bottom right corner of this page to contact one of our representatives.