How much screen time is too much for young children?
The key is to make the screen a bonus, not the focus.
The American Academy of Pediatrics (AAP) recommends that children between 2 and 5 years old consume no more than "one hour per day of high-quality programs." But the experiences of these children can differ significantly. Many parents allow more screen time—sometimes much more.
The AAP also suggests that parents pre-screen content before their children consume it—a big expectation for busy moms and dads. Armed with a few tools and facts though, parents can manage their kids' screen time in a style and manner that suits them best.
Balancing children's screen time. 
According to a University of Michigan survey, 88% of questioned parents agreed that "2 hours or less of entertainment screen time is reasonable each day"—double the AAP recommendation. And 25% of surveyed parents with children ages 2 to 5 said their children take in 3 or more hours of entertainment screen time a day.
According to Dr. Kathy Hirsh-Pasek, a faculty fellow at Temple University and senior fellow at the Brookings Institution, this is not necessarily cause for alarm, so long as "the screen time is the accessory, not the focus." Dr. Hirsh-Pasek has the same attitude toward devices as she does toward TV: "Too much is bad, and you need to know what your kids are watching," she says.
"We used to put kids in front of a TV. There's nothing wrong with that, but you need to balance it." Dr. Kathy Hirsh-Pasek
Parents may use devices to educate and entertain their kids, or to give themselves a much-needed break. On the face of it, that behavior is fine. "We used to put kids in front of a TV," Dr. Hirsh-Pasek says. "There's nothing wrong with that, but you need to balance it." She refers to apps and fun zones as "digital candy"—the message being they're great in moderation, and great for keeping the kids busy while you're busy, but not something they should ever gorge on. "But our child loves this' is not an excuse to let them constantly use a screen," she says.
According to the University of Michigan research team, an effective way to moderate children's screen time is to limit according to location, not by hour-long blocks. "It's easier to say no smartphones at the table than to be watching the clock," says Dr. April Khadijah Inniss, one of the study's authors.
Kid-friendly educational apps. 
Parents who allow screen time should also "co-view media with children," according to the AAP-meaning, they should watch and interact with the content right along with their kids. In practice, however, that can be easier said than done.
"My daughter can watch a mix between educational cartoon style TV and cooking shows, with the occasional 20 minutes on a tablet on the way to school," says Jared Brown, a graphic designer and parent of a three-year-old daughter. "But screening the content is the issue. Finding new and engaging educational content is hard, and I have to review everything in advance to avoid inappropriate content."
Dr. Hirsh-Pasek empathizes with busy parents with little time to pre-screen. "Unless you screen every app, there is no quick and dirty way to navigate the space," she says. Parents may consider blocking objectionable media sources with parental controls, but according to Dr. Hirsh-Pasek, kids today are even interacting with "second-hand screens"—content playing in the background of programs and apps that might have been pre-screened by parents.
A defense against what Dr. Hirsh-Pasek labels "a tsunami" of child-centered apps and programming is to apply a straightforward set of criteria to apps. Used effectively, these criteria can help parents better evaluate what is-and what is not-educational.
An effective app will fit the parent's definition of the terms "active," "engaging," "meaningful" and "socially interactive," Dr. Hirsh-Pasek says. Beyond these criteria, she advises parents to find apps that present educational topics in engaging formats (like games or puzzles) so learning feels more like playtime than class time.
Once parents have identified suitable apps and shows, the fun can start. "I co-watch certain shows to get my daughter to dance and be excited, and others to make her ask tons of questions," Brown says. "I even have shows that help her go to sleep, with nighttime themes."
Create good tech habits. 
The Pew Research Center found in a recent survey that "a third of Americans live in a household with three or more smartphones." As today's children grow up and mature, devices will follow them—whether it's with their parents' approval or not. 
Consequently, Dr. Hirsh-Pasek says that parents need to balance their own screen habits against what benefits their child. "We need to be smart as parents and think about what it means to be in front of a screen," she says.
Children adopt the habits of their parents, and follow their lead. Setting a good example-whether by shutting off devices at set times or carving out non-digital interactive time-is essential. Using screen time to dance, sing and learn, as Brown has done with his daughter, can help cultivate the right habits at an early age.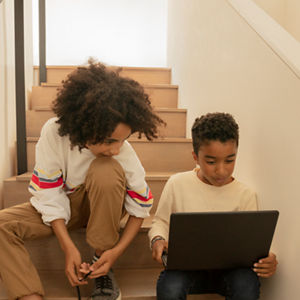 Parents know best—but can always know better.
Determining the right amount of screen time for a child is ultimately about balancing the professional guidelines against a parent's own judgment. Parents may need to enforce clear boundaries around passive screen time and more interactive, educational time. Dr. Hirsh-Pasek also cautions parents against pulling out their phone when spending dedicated time interacting with their children.
"When you are interrupted when you interact with your child, they don't learn anything from you," she says. "This learning is the most important thing for the 2- to 5-year-old set." She recommends that parents leave the phone off when playing one-on-one with children, but also take time to engage in co-viewing and learning activities that rely on the devices.
Advice and professional recommendations will guide parents toward a successful plan, but ultimately, parental instincts make a plan stick. Many parents are applying a mix of strategies, limiting device time during certain hours or situations, and sharing in their child's experiences watching on a screen.
"You cannot plan for a kid's time, but you need to be responsive," Dr. Hirsh-Pasek says. A parent who takes a proactive role in selecting content, creates the right mix of passive and interactive screen time, and preserves plenty of device-free activity is the parent who won't worry about excessive screen time in the first place.
Tech for kids.
If you're looking to find the best tech and phones for your kids, there are many options available based on their age and needs. There are even ways to prepare your child for a phone so you can feel confident they are ready for one. 
Este contenido se comparte solo con fines informativos. Toda la información que se incluye en esta página está sujeta a cambio sin aviso. Verizon no es responsable de ningún daño, ya sea directo o indirecto, que surja de o que esté relacionado con el uso o la fiabilidad del contenido antes mencionado.