Dispositivos para mantener a los niños saludables, felices y entretenidos en casa
Looking for new indoor activity ideas for kids? From kids' tablets and smartwatches like the GizmoWatch to kids' headphones and cameras, tech can help keep them happy and motivated to move - especially during colder days. Find out which devices can help improve your kids' time at home.
Kid-friendly smartwatches for healthy movement.
If your kid isn't ready for a smartphone, a smartwatch is a middle-ground device that can help teach responsibility and keep them active. Here are some options:
The Verizon GizmoWatch 2 is waterproof and durable and designed with safety in mind. Featuring a GPS locator and easy-to-use parental controls, it can teach your children independence while giving you peace of mind. They can stay connected with loved ones by calling or texting up to 10 trusted contacts. Calls can be set to automatically answer with Auto Answer, and Quick Dial lets them call you by simply pressing a hard key button for 5 seconds. They can also use it as an alarm for school and a fitness tracker to count steps and set goals. 
The Verizon GizmoWatch Disney Edition has similar capabilities as the GizmoWatch 2, featuring animated characters from Disney, Pixar, Marvel and Star Wars™. Your kids can set activity goals, and Elsa, Darth Vader, Minnie Mouse and Buzz Lightyear can motivate them to meet their goals. This model also has a front-facing camera, so they can take, save and send picture and video messages with fun Disney frames to their trusted contacts.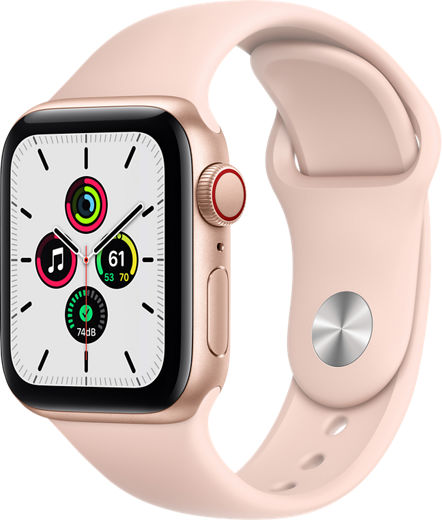 The Apple Watch SE offers a more sophisticated design, something older kids will appreciate. Parents, on the other hand, will appreciate a lower price than other Apple models, though it still comes with powerful features. Available in silver aluminum, space gray aluminum or gold aluminum, the Apple Watch SE lets your kids track their daily activity and precisely measure their workouts, even while swimming. They can also get calls and texts, listen to music and use Apple Pay and Siri right from the watch. Even better? They can customize it with new watch faces found online or in the App Store.
Kids' headphones for focused listening. 
They'll be thrilled with a comfortable set of headphones. You'll be thankful for the peace and quiet. Find the right pair for your child:
The JLab JBuddies Studio Wireless Kids Headphones let your kids play without the worry of tangled wires, which is especially great if they're attending P.E. class in your living room. Available in grey/purple or grey/blue, these foldable, compact headphones have up to 13 hours of battery life and a 15-foot wireless range.
The JBL Kids Bluetooth On-Ear Headphones are also foldable with a 15-foot wireless range but get up to 20 hours of battery life. Your color choices include pink or blue/orange. 
The JBL Kids On-Ear Headphones come in a red/blue design, include a sticker set for customization that your kid will love and plug in (they're not wireless). A soft–padded headband and ear cushions allow kids to listen for an extended period of time, and a foldable design and single-side flat cable make them portable.
Smart speakers and kids' tablets for home entertainment.
Great for entertainment as well as educational purposes, speakers and kids' tablets are often popular choices for a child's first device. Get your child set up today: 
The Amazon Echo Dot can answer all of your kids' questions so you don't have to. This kid-friendly smart speaker offers easy-to-use parental controls in the Amazon Parent Dashboard, and it comes with a cute tiger design. Kids can request a story, song or answers to questions. Alexa automatically gives kid-friendly responses, filters explicit songs and blocks shopping. The Echo Dot Kids' Edition comes with a free year of Amazon Kids+ (then $2.99 per month).* Your kids get hours of fun and access to thousands of age-appropriate books, movies, TV shows, educational apps and more.
The Samsung GizmoTablet has all the battery life, quality entertainment, memory and computing power you'd find in the Samsung Galaxy Tab A, plus the added benefit of Kids World. You can customize content by age and skill level and gain access to 300 premium learning apps. The tablet has a Parent Dashboard that helps you know how long your child has been using the tablet and indicates which apps they're using. The tablet's protective bumper can be removed, and older kids can exit out of Kids World for a full tablet experience. 
Tips for managing your kid's screen time.
Finally, though screen time can be a lot of fun, it can sometimes cause friction in families. Take steps to bring balance to using tech at home:
Instead of just handing them a device, talk to your kids about healthy ways to use technology. And don't forget that your kids are always watching and modeling your behavior.
Designate certain times of day for screen time, like after chores and outdoor activities. Instill rules such as all screens off during family meals.
Make it fun! Try out a yoga or dance video, take photos during a nature scavenger hunt, make a home video or find a podcast to listen to on family walks.
Shop more family tech to stay active, entertained and educated at home. 
*After 1 year, your subscription will automatically renew every month starting at just $2.99/month plus applicable tax. You may cancel any time by visiting the Amazon Parent Dashboard or contacting Customer Service. Offer valid through Amazon, not affiliated with Verizon.
Este contenido se comparte solo con fines informativos. Toda la información que se incluye en esta página está sujeta a cambio sin aviso. Verizon no es responsable de ningún daño, ya sea directo o indirecto, que surja del uso o la fiabilidad del contenido antes mencionado, o que esté relacionado con este.