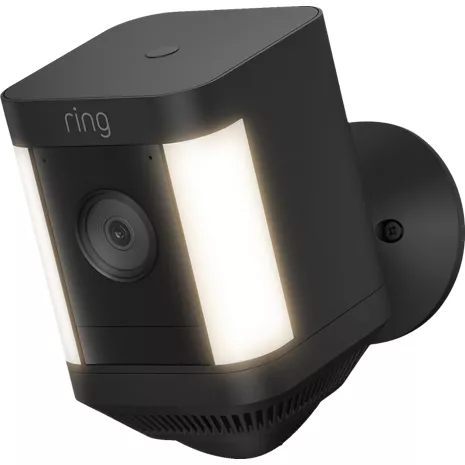 Pestaña Resumen seleccionada 1 de 4
Inicio de sección Resumen
Keep an eye on your home with the Spotlight Cam Plus Battery.
This battery powered security camera features 1080p HD with Color Night Vision and Live View so that you can check in any time, day or night.
LED spotlights turn on when they detect motion.
When alerted, turn on the built-in security siren with a few taps from your phone.¹ Customizable motion zones let you choose what the camera covers so that you can see what matters most.
Talk to guests wherever you are with 2-way talk.
And, you can easily power your device with the Quick Release Battery Pack.
¹ Ring Alarm and all Ring Alarm accessories require a subscription for digital notifications, in-app features, digital arming/disarming, and integration with other Ring, Echo, and third party products.
Subscription sold separately.
Terms and conditions apply.
Reseñas
100% of reviewers recommend this product.
Great features!
Sí, recomendaría este producto.
[This review was collected as part of a promotion.]
I bought his camera a while ago to help us see the driveway and front door area.
It's incredibly easy to install.
The camera quality is clear even in the night time.
There is a light on it that helps add extra vision!
ring.com Publicado originalmente en ring.com
Another great option to add
Sí, recomendaría este producto.
[This review was collected as part of a promotion.]
This new model is another great option to add to the system of ring cams around the house.
This one is great to have because virtually all house spotlights with or without a camera are hardwired.
This one is battery operated so it opens up so many more options on where you can use it.
It's great that you can just change out the battery pack with another charged up one instead of having to take the whole camera down to recharge or putting Alkaline batteries in it.
The video quality and spotlight options are great like any Ring cam but the portability is the selling point for me.
ring.com Publicado originalmente en ring.com