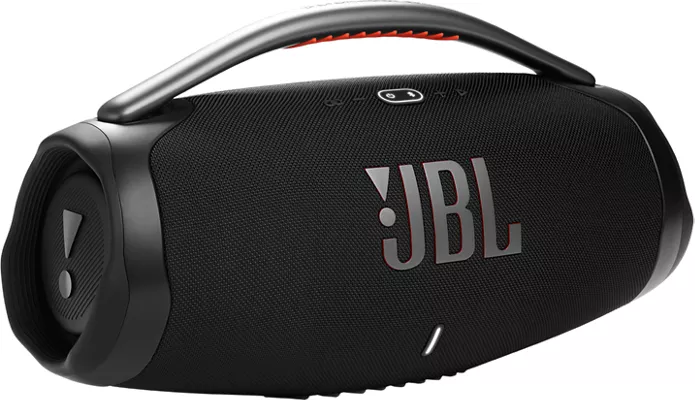 Sube el volumen con el altavoz portátil Boombox 3. Este altavoz Bluetooth® inalámbrico puede conectar hasta 2 smartphones o tablets al altavoz y puede turnarse para reproducir tus canciones favoritas. Los altavoces de 3 vías ofrecen una claridad increíble mientras reducen la distorsión para un amplio espectro de sonido. Su diseño llamativo y resistente, con dos tapas laterales y una robusta manija de metal, hace que sea fácil llevar tu música a cualquier parte. La clasificación IP67 de resistencia al polvo y al agua lo convierten en una excelente opción para estar al aire libre.¹ Y, con una batería de hasta 24 horas de duración, está diseñado para seguir el ritmo de tus listas de reproducción más largas.²

PartyBoost.
Empareja 2 altavoces compatibles con JBL PartyBoost para experimentar un sonido estéreo. Incluso puedes emparejar varios altavoces para obtener un sonido arrollador y envolvente.

Ve más allá con la aplicación.
Usa la aplicación JBL Portable para sacar el máximo partido a tu altavoz. Personaliza los ajustes, desbloquea las funciones y obtén actualizaciones en tiempo real para que siempre puedas escuchar tu música a tu manera.

Empaque ecológico.
Diseñado para ser sostenible, el Boombox 3 viene en una caja reciclable de papel, incluida la bandeja interior, y el exterior está impreso con tinta de soja.

¹ Grado de impermeabilidad IP67. Se puede sumergir en hasta 1 m de agua por hasta 30 minutos.
² La duración de la batería y los ciclos de carga varían según el uso, las configuraciones y otros factores; los resultados reales variarán.

Reseñas
39 reseñas
de las reseñas recomiendan este producto.
JBL boombox
Sí, recomendaría este producto.
Jbl boombox 3 sound is amazing!! Previously had the jbl boombox 1 also very impressed by it but this speaker edges the first one. Highly recommend it.
3rd addition to the Boombox line. Worth it.
I had a Monster Sound blaster from 2016-17. I thought the sound from that boom box would never be matched. As time went on, it lost its ability to keep a charge. I needed another boombox and did some research. After reading a few reviews, I decided to look at JBL's boomboxes. The boombox 2 popped up. I read about it and thought...why not. It had good reviews. Then I heard that there was a boombox 3. I figured it was a little pricey, but, if they were charging this much, they were confident in their product. Man....was I pleasantly surprised. I never heard such solid, tight bass from a portable. They added a subwoofer to boombox 3. Add to that the nice midrange, with crisp, sparkling highs. I'm sold. While the Monster was my introduction to Bluetooth boomboxes...and an awesome one, the boombox 3 took it to another level. If you're willing to spend the extra money, the boombox 3 is well worth it.