Best practices for smartphone use in K-12 classrooms
The capabilities of smartphones are becoming greater as time goes on. Implementing technology in the classroom and promoting digital citizenship is vital for education. Although cell phones can misdirect focus within education, using smartphones — and best practices —  in the classroom can open up a whole new realm of possibilities throughout curricula. 
Why Smartphones Are Good for Students.
Smartphones are becoming more common in school because they offer a variety of benefits beyond calling/texting communications, quick answers, the weather, and social media. Cell phones are gaining acceptance inside US schools because they can be positive for students in a variety of ways.
A study by World Scientific News concluded that as the technology available for cell phones continues to evolve, smartphones can be capable of positively contributing to student learning, curricula, and academic effort as a whole. 36.5% of the 274 students analyzed (159 male, 115 female) agreed that mobile phones assist them in their learning as a whole. 
The students also agreed that cell phones are also helpful for informational exchanges between peers and educators. While there are some downsides to smartphones in the classroom - such as distractions, up-training, and failed multitasking attempts - the benefits far outweigh the negatives.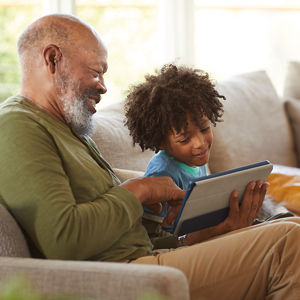 Can Cell Phones Be Educational Tools?
The rise of mobile education for children of all ages brings forward the question of how and where to bring cell phones into the classroom. Prior to formal education, today's students can become technologically savvy, so it is important to consider the ways to use cell phones in the classrooms to enhance education.
Bringing Multimedia to the Classroom.
The ways to use a smartphone for student interaction are limitless. Examples of multimedia in the classroom are:
Using audiobooks for alternatives to traditional reading;

Using songs or music videos to teach a lesson;

Using slideshows to introduce a new topic;

Using games to add fun to dry topics;

Using virtual reality to offer alternative learning spaces.
Multimedia can also distract learners, so it is important to follow tips towards keeping students engaged by doing the following:
Offer explicit instruction;

Test all multimedia prior;

Incorporate movement;

Create stipulations or classroom policies surrounding alternatives to traditional instruction.
As Part of a Student's Individualized Education Plan.
Some students require additional educational support in the form of an individualized education plan (IEP). Cellphones can be used to facilitate assistive technology and the IEP. Students who are auditory learners can record lectures. Virtual reality smartphone capabilities can help eliminate distractions and promote visual learning. 
It becomes important to understand which technology provides educational benefits, and which distracts from education, and that ultimately, is based primarily on intent. Consider three primary questions when determining whether to use a particular technology:
What is the assistive technology needed for?

What up-training or prerequisites are needed to make use of the assistive technology?

Is there proven correlation between the assistive technology and the desired outcome?
Viable assistive technology found in schools can be used for:
Access (physical boundaries);

Augmentative communication;

Assistive listening;

Computer-based instruction;

Environmental control;

Mobility;

Recreation/leisure;

Visual aids.
Important Considerations When Introducing Smartphones.
Prior to introducing smartphones within your curricula and classroom, you need to be aware of potential issues, concerns, and considerations. "Considerations of the Use of Mobiles Phone in an Educational Context" examines things such as the distractions that mobile phones bring. Once you decide to bring cell phones into the classroom, it becomes necessary to create a classroom policy surrounding acceptable smartphone usage and unacceptable phone behavior. Parental controls can be a great resource for setting boundaries. 
It's worth noting that not all students own or have access to a smartphone. In cases like this, the school will either need to provide school-owned tablets or alternative devices (which brings forward an array of new concerns), or a parent must be responsible for a kid's plan. It is also important to analyze how effectively your smartphone introduction is working; assess and address accordingly. 
Apps for Students.
In addition to the various practical uses of smartphones within classrooms, students can use their mobile devices to organize information, collaborate on various projects, and create a more efficient educational experience on a continual basis — both at home and within the classroom. The following apps — pulled from Common Sense Educations Top Pick List of reviewed, credible applications — will help students achieve greater academic success:
Best Planner Apps for Students.
One way to ensure efficiency within the classroom is finding a solution to organizational and planning apps for students, parents, and educators to collaborate schedules. The following apps are viable options:
Best Note-Taking Apps for Students.
Helping children take notes and organize their notes in a manner that is scannable and well-organized helps children stay on top of their work. The following apps are viable, well-reviewed apps for note-taking:
Other Useful Apps for Learning.
There are other apps to consider when introducing technology into the classroom, as well as must-have educational apps for parents. It is important to find apps for international students and students with disabilities as well. Other useful apps to take into account are:
Este contenido se comparte solo con fines informativos. Toda la información que se incluye en esta página está sujeta a cambio sin aviso. Verizon no es responsable de ningún daño, ya sea directo o indirecto, que surja del uso o la fiabilidad del contenido antes mencionado, o que esté relacionado con este.