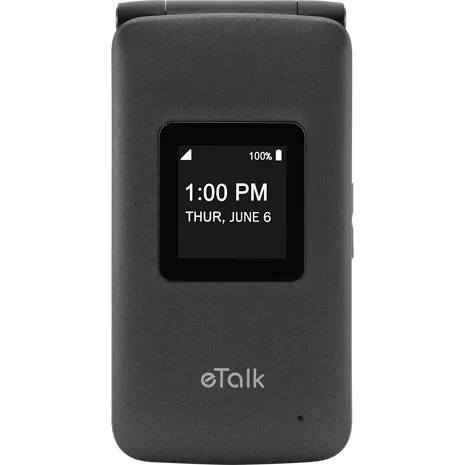 Pestaña Resumen seleccionada 1 de 4
Inicio de sección Resumen
Efficiency meets elegance with the eTalk flip phone. Get the essentials you need on a sleek device that features a bright,
easy-to-read 2.8-inch internal and 1.44-inch external display.
The eTalk offers high-resolution sound, a long-lasting battery and up to 32 GB in expandable memory.
Unleash its full potential with Verizon, America's most awarded network.
Reseñas
11% of reviewers recommend this product.
Garbage
Forced to replace my father's phone with this garbage. How was it that a 10 year old phone functioned far better than this "new" one. Everyone should stay away from this phone, there has to be a better option.
This phone comes with instructions that describe only the most basic functions such as turning it on or off and charging. Moreover it is not user-friendly. It is impossible to figure out how to see messages or create or receive texting by trial and error. So there are features that I cannot access. Verizon does not even offer a download of a complete manual. The phone is not ergonomic and is either fully open or closed, so when you call someone, in order to place the speaker end close to your ear, the microphone is so far away that the person you call cannot hear unless you awkwardly hold it against the internal spring that keeps it fully open. This phone is a very poor substitute for my prior Motorola flip phone, which came with a completely detailed user manual but is now non-working due to Verizon's forcing it to be obsolete.