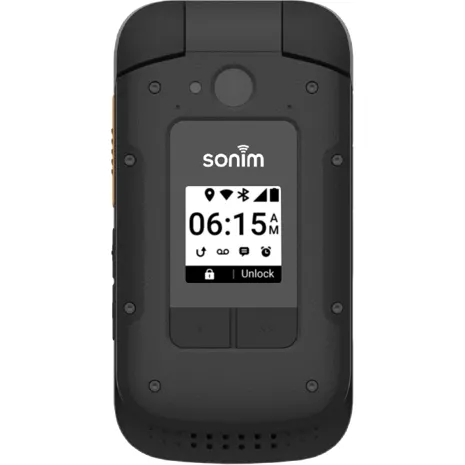 Pestaña Resumen seleccionada 1 de 4
Inicio de sección Resumen
Reseñas
100% of reviewers recommend this product.
Great Quality Flip Phone But Not Without Flaws
elipeoner923 . 14 días hace
Sí, recomendaría este producto.
Why no love for this phone in the review section? This is probably the best flip phone on the market right now, but it's not perfect. In short, it's a very solid phone, has great battery life (best in any flip phone I've ever had), large interior and exterior screens for a flip phone, large keypad, slick operating system, and not a bad camera. As for the cons, the phone is quite large and heavy, the keypad buttons are a little hard to depress while the exterior buttons are a little too easy to depress, the text input system is a little wonky, and it's missing an email app, which is puzzling. Changing the phone from sound alerts to vibrate to silent is a little different from other flip phones, you have to set different profiles and then switch to them through the homescreen or one of the exterior buttons. I wish you could switch the old fashioned way by simply using the exterior volume rockers to go from sound to vibrate to silent, I think it's much simpler but it's not a dealbreaker and I think one can get used to Sonim's sound profiles. I also wish you had more control over the zoom level of photos in the gallery app. The way it's set up you press the center ok button to zoom in all the way. I wish you could zoom in steps. The text input system, KT9, isn't the best. For example, it doesn't realize that the word "I" is used very frequently in English. When you press the 4 button It will type a "G" and force you to manually switch to the "I" – every time. It's pretty annoying. It's also quite difficult to type words with apostrophe's as it doesn't recognize a period as an apostrophe like other T9's do. For example, you should be able to type "you.re" and the T9 will auto type "you're". Holding backspace also deletes everything you wrote, which makes it too easy to lose everything you typed. Lastly, I wish this phone had a Voice to Text option, it clearly has voice commands so why can't that system be adapted to Voice to Text? I wish we could use voice commands from the exterior screen without having to open the flip. I also wish the home screen was more customizable. It doesn't let you create more home screens and modify them. All these aside this is probably the best flip phone on the market right now with fantastic battery life, large screens, and a large keypad, but I hope Sonim will consider these updates to make it even better!