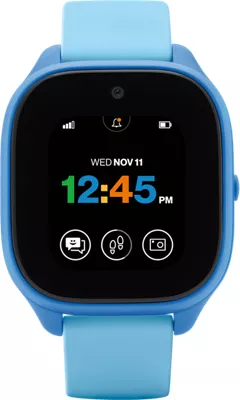 Monthly payments shown are for customers who qualify to pay $0 Down, $4.16/mo for 36 months; 0% APR. Retail price: $149.99. One-time activation fee of $35.
Meet Gizmo Watch 3, the smartwatch that introduces kids to wireless technology safely. Only the trusted contacts1 that you manage can communicate with your child's Gizmo Watch 3, and the watch is restricted from installing any outside apps. Gizmo Watch 3 and the GizmoHub app2 on your smartphone provide you an easy way to keep up on your child's whereabouts. And with features such as an SOS button, auto-answer3, voice calling, video calling4 and video messaging, staying in touch with your child is as close as their wrist.
Reseñas
51 reviews
of reviewers recommend this product.
Gizmo 1 and 2
Yes, I'd recommend this product.
Had the first one for my grandson to watch band was built in so when the watch band broke I had to buy him a second Gizmo then they decided to cut that one off so you're forced to buy another one again I have bought four of these now The great what you need them for I don't like keeping being forced to buy another one
The Gizmo Team - 4 hours ago
We think what you're referring to are the older first generation Gizmos that were CDMA technology. If yes, it's true that those models are no longer available or usable because of the shutdown of the CDMA network. The newer Gizmo watches use the Verizon LTE network. Thanks for being a long time Gizmo customer.
Perfect for 3rd Grader
Yes, I'd recommend this product.
This is our first Gizmo watch and we are happy with it. It allows our daughter some freedom, as she can call us and ask to stay late after school or meet up with a neighborhood friend The battery lasts the full day, so long as she is not using the video chat. But the video chat is a cool feature for occasional chats with grandparents. Note that we purchased this the first week it was released and did have some initial issues connecting with the hub, but a customer service reset (by phone) + watch factory reset solved it permanently.
The Gizmo Team - 1 day ago
Hi Carrie. We're glad to hear you're happy with Gizmo Watch 3. We imagine that the grandparents must love being able to video chat face-to-face with their granddaughter. (And we bet she thinks it's pretty cool too!) Thanks for being one of the first to try out our new Gizmo watch model. And as you mentioned, we've found that doing the simple device reset (pressing the power button four times while the watch is on the charger) cleared up the initial pairing issue some folks were experiencing.
Numbers must be registered through the GizmoHub App. Gizmo Watch 3 permits up to twenty contacts, including the primary registered caregiver.
Dependent on carrier coverage. Device must be turned on. Verizon makes no representations or warranties about the availability or accuracy of the GPS or about the accuracy or completeness of any map data or other information.
When the Auto-answer calls setting is turned on, the watch will automatically answer the call in 10 seconds. Auto-answered calls automatically end after 1 minute.
A video call has a three minute time-duration limit to prevent the device from overheating. Video calls end automatically after the three minute duration.
Battery life and charge cycles vary with use, settings, and other factors; actual results will vary.
Data usage applies for app download and use. Video and photo features are available only on Gizmo Watch 3 and Gizmo Watch Disney Edition.