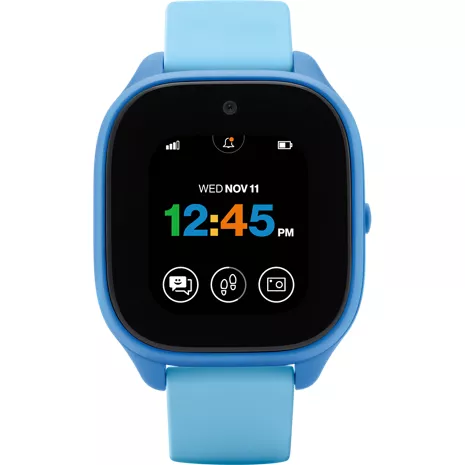 carrusel con 1 diapositivas
Formas de ahorrar
For personalized offers, .
Buy one, get one $100 off.
Meet Gizmo Watch 3, the smartwatch that introduces kids to wireless technology safely. Only the trusted contacts1 that you manage can communicate with your child's Gizmo Watch 3, and the watch is restricted from installing any outside apps. Gizmo Watch 3 and the GizmoHub app2 on your smartphone provide you an easy way to keep up on your child's whereabouts. And with features such as an SOS button, auto-answer3, voice calling, video calling4 and video messaging, staying in touch with your child is as close as their wrist.
Reseñas
25% of reviewers recommend this product.
Like the watch
Sí, recomendaría este producto.
Overall we like the watch. Texting is app based so you have to have the GizmoHub app downloaded. I don't necessarily like that feature as we would have to have everyone download the app when I just thought they could text as normal if the phone number was out of the 20 authorized like they do for calling. It has got hung up on schoolmode so you manual have to turn it off. It will serve it's purpose until the time we feel comfortable in getting actual cell phones.
Great for communication and location, finally Video calling.
Sí, recomendaría este producto.
I chose this watch over others because it's not nearly as bulky and the gizmo 3 supports video calls whereas the previous versions did not. Also with tax it's $13 per month. The phone supports video and audio calling. The video calls are limited to 3 minutes (to keep watch from overheating), which is fine for us. There isn't a limit for voice calls. While the watch doesn't have a full keyboard, the kids and I send voice memos which is way easier and more personable. Plus in lieu of the full keyboard, there are 30 pre typed messages the kids can send and you can customize each message. They also can send emojis. Additionally, the watch has cool little voice modulators that the kids enjoy (sounding like a robot or chipmunk for example). It also can make fart sounds among other kid friendly sounds. The step counter is something my daughter def enjoys. It's not as feature rich as an Apple or Samsung Watch but then again neither of those allow for video calling. The GizmoHub app you install on you phone I found quite intuitive. You can see where the watch is and toggle how often it refreshes location. I have it set to default (I think 30 minutes) and when I want to know where the watch is at that moment I can ping the watch. You can also see who the child has called and who called the child (they can only contact and be contacted from the guardian approved contact list.) The contact list supports a total of 20 people that you choose. They can be given the title of guardian, caregiver, or contact. Each with their own level of access. To video call from your phone to the watch you initiate the call from the GizmoHub app. For voice calls you can just call the watch like a regular phone. The battery will get you close to 2 days but I'd recommend charging it every night. The charger is magnetic but not a snappy as MagSafe.
The Verizon Gizmo Team - 2 days ago
Hi GirlDad. Thank you for taking the time to write such a thorough review. We're happy that you and your daughter are getting full use out of Gizmo Watch 3. We're glad that your daughter enjoys the step counter as it encourages her to be physically active.
Numbers must be registered through the GizmoHub App. Gizmo Watch 3 permits up to twenty contacts, including the primary registered caregiver.
Dependent on carrier coverage. Device must be turned on. Verizon makes no representations or warranties about the availability or accuracy of the GPS or about the accuracy or completeness of any map data or other information.
When the Auto-answer calls setting is turned on, the watch will automatically answer the call in 10 seconds. Auto-answered calls automatically end after 1 minute.
A video call has a three minute time-duration limit to prevent the device from overheating. Video calls end automatically after the three minute duration.
Battery life and charge cycles vary with use, settings, and other factors; actual results will vary.
Data usage applies for app download and use. Video and photo features are available only on Gizmo Watch 3 and Gizmo Watch Disney Edition.