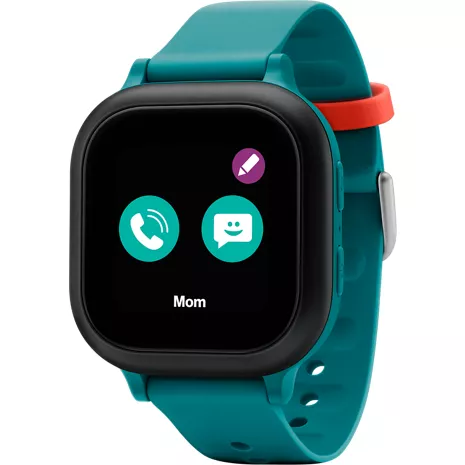 Formas de ahorrar
Para ver ofertas personalizadas,  .
Compra uno, llévate otro con hasta $100 de descuento. Cualquier plan.
GizmoWatch 2 es un reloj inteligente para niños diseñado pensando en la seguridad de tus hijos. El GizmoWatch 2 está lleno de características que los padres adorarán, como un localizador GPS, ¹ recordatorios y controles parentales fáciles de usar. Este es un reloj inteligente que fomenta la independencia, a la vez que brinda tranquilidad a los padres. Incluye funciones interactivas, como monitoreo de pasos para fomentar los hábitos saludables, y listas de cosas para hacer con recompensas. Configura hasta 10 contactos de confianza a los que los niños puedan enviar notas de voz, llamar o enviar mensajes de texto.2 Resistente al agua3, duradero y fácil de usar, el nuevo GizmoWatch 2 se conecta a 4G LTE de Verizon, la red más premiada del país.
Reseñas
30% de las reseñas recomiendan este producto.
Great GPS tracker for special needs individuals sssss
The Gizmo has been a fabulous device to give our daughter autonomy and gives us peace of mind to know we can track her, as needed. We can talk to her on the device and she can call us - It's been a "life saver" for all of us who work with our daughter. ¡Gracias!
The Verizon Gizmo Team - 14 horas hace
Nikki, Thank you for sharing. We love stories such as yours on how Gizmo can help care for those with special needs. Autonomy is a big deal. Family caregivers must balance the right degree of autonomy versus the concern and worry they have for their loved ones. It makes us happy that Gizmo has been able to help you in that regard. Here's another Gizmo story that might be of interest to you. https://www.verizon.com/about/news/smartwatch-gives-you-peace-mind Cheers.
So far it's been good sssss
Sí, recomendaría este producto.
Only had it a few days, but so far we like it. While the child texting is limited as some have mentioned, they can do any voice message they want. It would be mighty hard to put a keyboard function on a watch like this, and the voice memos do a fine job of covering that function. One thing I need to mention though - not sure if this is common to other apps/phones but I have a Pixel 6 Pro, and while listening to music I wanted to send my son a voice memo. I did so, thinking that like sending a voice text message, it would pause the music app automatically. Not only did it not pause the music app, but as soon as I completed the voice memo my music app immediately jumped to 100% volume. I have a $350 pair of studio on ear headphones, so this was a horrific experience and lucky I didn't blow the drivers. So next time I paused my music app, sent the voice memo, and then pressed play - at which point again my volume had been reset to 100%!!!! I have to assume that now anytime I want to send a voicememo, I'm going to need to also adjust my phone volume back down. That's a bit of a pain, and I certainly hope this can be fixed in a future update for the watch.
The Verizon Gizmo Team - 1 día hace
Hi Prof. We're happy that you find the Gizmo voice message feature to be useful. The volume issue you describe is a new one to us, so we would really like to look into it and see if we can determine the cause and offer a solution. Please email us at gizmo@verizon.com
1 Depende de la cobertura del proveedor. El dispositivo debe estar encendido. Verizon no ofrece declaración ni garantía alguna sobre la disponibilidad o exactitud del GPS o sobre la exactitud o integridad de cualquier dato del mapa u otra información.
2 Los números deben registrarse a través de la aplicación GizmoHub. El Gizmo Watch permite hasta nueve contactos adicionales a la persona de cuidado principal registrada.
3 Resistente al agua: este dispositivo fue probado para cumplir con IPX7. No utilizar debajo del agua. Si todas las tapas están bien cerradas, el dispositivo está protegido contra el ingreso de agua en un máximo de 1 metro por hasta 30 minutos.
4 El uso de datos se aplica a la descarga y el uso de aplicaciones.
5 La llamada repetida se debe hacer dentro de los 60 segundos de finalizada la llamada anterior no respondida.