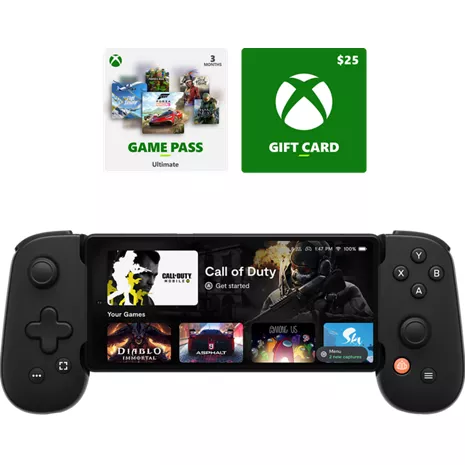 Pestaña Resumen seleccionada 1 de 4
Inicio de sección Resumen
Backbone One transforms your phone into a versatile mobile gaming console. Snap in your phone and play most game or service that supports controllers including Google Play Store, Xbox Game Pass Ultimate and streaming directly from your Xbox or PC. No charging, no waiting for updates, no tedious setup. Uncover a new world of premium gaming in seconds. Responsive analog triggers, tactile buttons, and clickable thumbsticks provide the ultimate mobile gaming experience. Connect to your phone's USB-C port for ultra-responsive gameplay. Charge and use your favorite headset while you play. It works with most Android devices 8.0 and up.
Backbone app.
The Backbone App for Android is available for free with all purchases. The Backbone app aggregates your mobile content library and many popular game streaming services into a streamlined user experience. Backbone+ subscriptions will be available at a later date which add additional features, perks and in-game rewards.
Level up your gaming adventures.
The bundle comes with a $25 Microsoft Xbox gift card and 3 months of Xbox Game Pass Ultimate. With more than 100 games to get you started, you can begin your next gaming adventure. (Subscription renews at $14.99 after trial ends.)
Reseñas
95% of reviewers recommend this product.
Needs Tweaking of Design
I like it despite the fact that it is barely long/tall enough to fit my phone (Pixel 7 Pro), without the case. I also think they can better design the way grasps the phone... too flimsy. And for a person with larger hands would have a hard time with the controls.
Great Gaming Gift
Works great for S22 ultra...taking handheld gaming to the next level