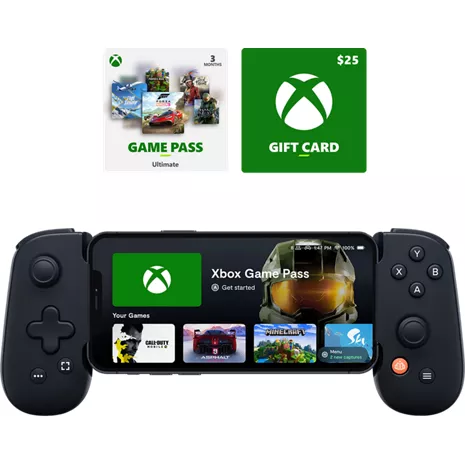 Pestaña Resumen seleccionada 1 de 4
Inicio de sección Resumen
Dive into the world of Xbox gaming with the Mobile Controller Bundle for iPhone. This mobile controller has an ergonomic grip for comfortable play and includes additional spacers for iPhone 13 Pro and Pro Max. Low-latency pass-through charging takes advantage of Apple's Lightning charging port for continuous power. And, the headset jack allows you to listen while on the go with a wired headset.
Level up your gaming adventures.
The bundle comes with a $25 Microsoft Xbox gift card and 3 months of Xbox Game Pass Ultimate. With more than 100 games to get you started, you can begin your next gaming adventure. (Subscription renews at $14.99 after trial ends.)
Reseñas
83% of reviewers recommend this product.
Great deal for including game pass membership and $25 Xbox gift card. Backbone+ requires a yearly membership but I feel it's worth it. Have fun!
Brandon Flesher . 29 días hace
Sí, recomendaría este producto.
Bundle is worth the price
Ehh
Buyers remorse . 2 meses hace
Does not transition well to other purchased games on Xbox system. Free games are ok but not exceptional. System required a couple of YouTube videos to get better understandings of game and compatibility. Will not purchase anymore and looking to sell this one. Buyer's remorse. Store was busy and did not offer any additional assistance. Retail store at this location is usually helpful.