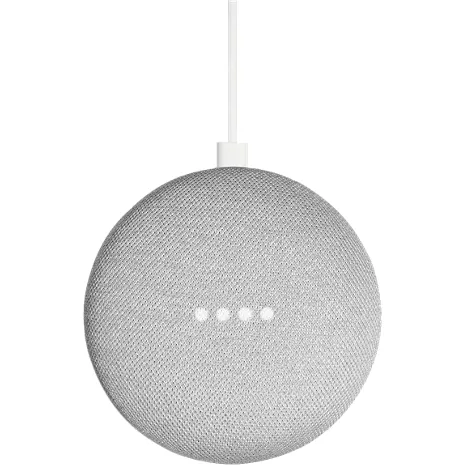 This item is currently only available for Express Pickup. 
Select a store to continue.
Pestaña Resumen seleccionada 1 de 4
Inicio de sección Resumen
Small and mighty. Google Home Mini has the Google Assistant built–in so you can ask it questions and tell it to do things. Google Home Mini makes it quick and easy to get hands–free help around the house.





Play, pause and rewind. Hands–free.




Control your favorite music, movies and shows*, using only your voice. "Hey Google, play some pop music."





Control your smart home.




Use your voice to control your compatible lights, thermostats and more. "Hey Google, turn off the bedroom lights."





Your voice. Your info.




Get personalized responses for everyone at home with voice recognition.

† "Hey Google, when is my first meeting tomorrow?"



Requires Wi-Fi connectivity for setup and operation.



*Se requieren suscripciones para acceder a determinado contenido.
†Google Home Mini puede distinguir hasta seis voces en total.
Reseñas
100% of reviewers recommend this product.
Wowzah!
Sí, recomendaría este producto.
I purchased this as a joke for my husband and dad who are anything but tech savvy. It became such a great product to have that I bought two Google Nests and a Google Mini to have around my house. My daughter loved it so much I bought one for her room. This is so amazing. The speakers on all of the products is superb. For the compact size of the minis, they are quite powerful and the Google home fills up my entire living room. It's easy to give commands and the responses are fast. I also bought Nitebird lightbulbs and they were so easy to connect! Omg I understand the hype of home assistants now! Can't recommend enough!
Device would not connect to interne
Sí, recomendaría este producto.
Device would not connect to internet
Google Team - 2 years ago
Hi Txecex,
Thank you for taking the time to share your feedback with us. We're sorry to hear that your Google Home Mini does not connect to the internet. We understand how important this is for you. Connectivity issues are caused by several reasons such as outdated router firmware, location and distance of Google Home Mini and Wi-Fi router, Wi-Fi network congestion and Wi-Fi interference with other devices and/or networks. If you will allow us, we'd like to learn more about what's happening with your Google Home Mini. Please reach out to our support team and we'll help you troubleshoot any issues with it here: https://support.google.com/googlenest/gethelp