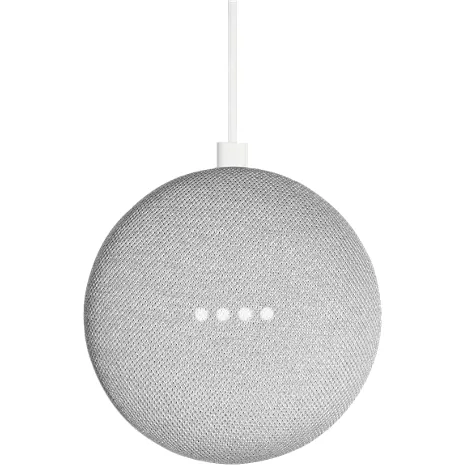 Devoluciones gratuitas en el plazo de 30 días.Detalles
Obtenlo rápido
Selecciona las opciones de envío al pagar. Sujeto a elegibilidad.Detalles
Pequeño y poderoso. Google Home Mini tiene Google Assistant integrado, de manera que puedes hacerle preguntas y pedirle que haga cosas. Google Home Mini te permite obtener ayuda de manos libres alrededor del hogar, fácil y rápidamente.

Reproduce, pausa y retrocede. De manos libres.
Controla tu música, tus películas y programas favoritos* usando sólo tu voz. "Oye, Google, reproduce música popular".

Gestiona tu hogar inteligente.
Usa tu voz para controlar tus luces, termostatos y demás cosas compatibles. "Oye, Google, apaga las luces de la habitación".

Tu voz. Tu información.
Obtén respuestas personalizadas para todos en casa con el reconocimiento de voz†. "Oye Google, ¿a qué hora es mi primera reunión mañana?

Requiere conectividad Wi-Fi para la configuración y el funcionamiento.

*Se requieren suscripciones para acceder a determinado contenido.
†Google Home Mini puede distinguir hasta seis voces en total.
Reseñas
18% de las reseñas recomiendan este producto.
Wowzah!
Sí, recomendaría este producto.
I purchased this as a joke for my husband and dad who are anything but tech savvy. It became such a great product to have that I bought two Google Nests and a Google Mini to have around my house. My daughter loved it so much I bought one for her room. This is so amazing. The speakers on all of the products is superb. For the compact size of the minis, they are quite powerful and the Google home fills up my entire living room. It's easy to give commands and the responses are fast. I also bought Nitebird lightbulbs and they were so easy to connect! Omg I understand the hype of home assistants now! Can't recommend enough!
Device would not connect to interne
Sí, recomendaría este producto.
Device would not connect to internet
Equipo de Google - 2 años hace
Hola, Txecex,

Thank you for taking the time to share your feedback with us. We're sorry to hear that your Google Home Mini does not connect to the internet. We understand how important this is for you. Connectivity issues are caused by several reasons such as outdated router firmware, location and distance of Google Home Mini and Wi-Fi router, Wi-Fi network congestion and Wi-Fi interference with other devices and/or networks. If you will allow us, we'd like to learn more about what's happening with your Google Home Mini. Please reach out to our support team and we'll help you troubleshoot any issues with it here: https://support.google.com/googlenest/gethelp