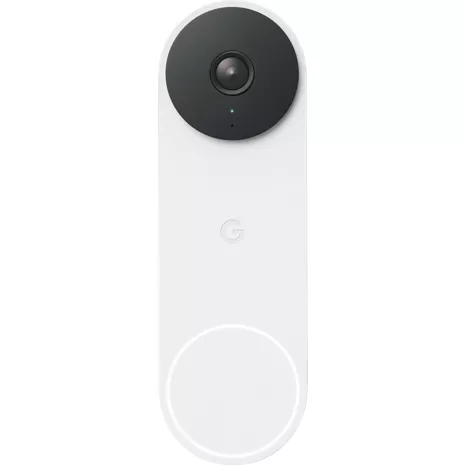 Pestaña Resumen seleccionada 1 de 4
Inicio de sección Resumen
The 2nd-gen wired Nest Doorbell is always on, so you can know what's happening at your front door around the clock.¹ Get built-in intelligent alerts about people, packages, and animals, and 3 hours of event video history.
Add up to 10 days of continuous recording with Nest Aware Plus.² And manage your doorbell easily using the Google Home app.³
¹ Some features, including mobile notifications, remote control, video streaming, and video recording, require working internet and Wi-Fi.
² Continuous video recording requires a Nest Aware Plus subscription.
³ To learn more, visit g.co/nest/cam-mem.
Reseñas
99% of reviewers recommend this product.
Known issues that Google doesn't seem able to fix!
Installed this and it seemed to have issues from the start.
Before reading any further, the issues I describe are extremely common on the Google Help Forums, and no one seems to get any help from Google.
Even IT professions are complaining, and they are being told it's something to do with their internet service.
Google knows there is an issue on their end , but it seems they have no fix for it so they blame the customer.
My service is 1Gb down and up, and the access point is 10 feet away from the doorbell unobstructed by anything other than 1 layer of sheet rock and wood siding in the exterior wall.
I can view the live feed from the doorbell whenever I want, except when I need it the most, when someone rings the doorbell!
I get a message on my phone and/or Echo Show 10 that the image is unavailable.
At the same time, there is no way to talk through the doorbell to see who is there.
Basically it does not work as a video doorbell.
It does work as a video camera if no one rings the bell however.
Also, the Nest Aware service has glitches.
All video gets sent to Google for processing and saving before it is returned to you to view.
That's how they can charge you a monthly fee.
If the video was kept local, in your home, then they couldn't charge you a monthly fee.
As it is they have to process the video, and then send it back to you. most of my longer videos say they are "unavailable".
That's an issue where Google has them but hasn't sent them back to me.
The blacked-out feed shows a message that they will be available at a later date, but they never arrive.
Then just as bad are the videos that are sent back to me but go black before they are finished.
Example of this is (I'll pull up saved video) the UPS guy parks the truck, I can see him get out, walk up the driveway and when he is about 10 feet away from the door, the video goes black, and says it's "unavailable".
There is a progress bar showing that there is more video awaiting, but Google hasn't sent it back to be viewed.
This seems to happen for all video whether they ring the bell or not.
I know that it was actually recorded due to the thumbnails you get in your history page.
They play at lightning speed, so you know that something was recorded but it goes by in lightning fast speed.
A 30 second video is played back in thumbnail size in about two seconds.
So you have proof it was recorded, but if google doesn't send it back to you in full-size format you can't view it.
I'd suggest looking in the google help forums before purchasing this doorbell.
If yours doesn't work right from the start, contact google to see the lack of help you will get, and make sure you return it to Verizon within the 30 day window, or you will be stuck with a video doorbell that does NOT work as a video doorbell, with no options other than to keep a non-functional device.
Google Team - 8 months ago
Hello there, andygold.
We're sorry to hear that you're experiencing some difficulties with live feeds from your Nest Doorbell.
This is not the experience we want you to have with the service we provide for our customers.
We'd recommend that you reach out to our support specialists so we can help find a better resolution for you.
Please contact us on our Google Help page by visiting the link here: https://support.google.com/googlenest/gethelp
Google Nest Doorbell
Sí, recomendaría este producto.
[This review was collected as part of a promotion.]
This product has completely revolutionized home security and given homeowners peace of mind when it comes to their safety.
The installation process was very straightforward and easy, even for people who are not tech-savvy.
The camera quality is exceptional, and the app connectivity has been seamless and reliable.
One of the things I appreciate most about this product is its motion detection feature.
It accurately detects any movement around my front door and immediately sends me an alert, allowing me to see who is at my door or if there is any suspicious activity happening outside.
Google LLC Publicado originalmente en Google LLC