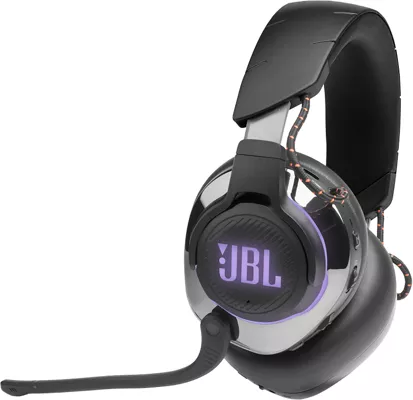 Lleva la experiencia de tus videojuegos a otro nivel con el auricular inalámbrico para videojuegos Quantum 810. El diseño duradero y cómodo incluye almohadillas de espuma viscoelástica envueltas en piel de primera calidad para sesiones de juego prolongadas. Con una doble conexión inalámbrica de 2.4 GHz y Bluetooth® 5.2, olvídate del lag y las interrupciones. Un dial de chat de audio integrado para jugar te permite controlar los niveles de volumen del juego sin dejar de oír a tu equipo. Y el micrófono direccional con enfoque de voz se encarga de que te puedan oir.

Sonido doblemente envolvente.
Los controladores de alta resolución de 50 mm te permiten sumergirte completamente en el JBL QuantumSOUND. Esto, combinado con la tecnología JBL QuantumSURROUND y DTS Headphone:X versión 2.0 te hace sentir como si estuvieras en medio de la acción.

Cancelación activa de ruidos.
La tecnología de cancelación activa de ruidos elimina las distracciones para que puedas concentrarte en el juego.

Usa y carga.
Con una batería de hasta 43 horas de duración, el auricular te acompañará incluso durante la sesión de juego más extensa.¹ Y puedes jugar y cargar al mismo tiempo, por lo que no es necesario que te desconectes.

Compatible con múltiples plataformas.
El Quantum 810 está optimizado para los videojuegos para PC, pero es compatible con múltiples plataformas como PlayStation, Nintendo Switch, Xbox, móvil, Mac y VR, impulsado por el JBL QuantumENGINE.



¹ La duración de la batería y los ciclos de carga varían según el uso, las configuraciones y otros factores; los resultados reales variarán.
Reseñas
31 reseñas
de las reseñas recomiendan este producto.
Great headphones
Everything has worked just fine for me, the customization is detailed, the surround sound is great, and the audio quality is near perfect. These are overall the best headphones i have ever used.
Not pleased
I really wanted to like these. The RBG is cool and they're very comfortable. However, the audio is actually awful. I've played with all the settings, read the manual and some Reddit threads. Nothing seems to make the sound quality even close to decent. There's even a static sound sometimes. The mic is also very bad. None of my friends can ever hear me and they ask me to repeat myself multiple times. The battery life is also something that bugged me- they die so quick. I'm not even picky with things like this but these were really disappointing. Not worth the money at all in my opinion.
Customer Support - 20 days ago
Thank you for taking the time to provide us with your feedback. We're here to help with your JBL Quantum 810 Wireless, please contact our customer support service via our official website or toll-free hotline.