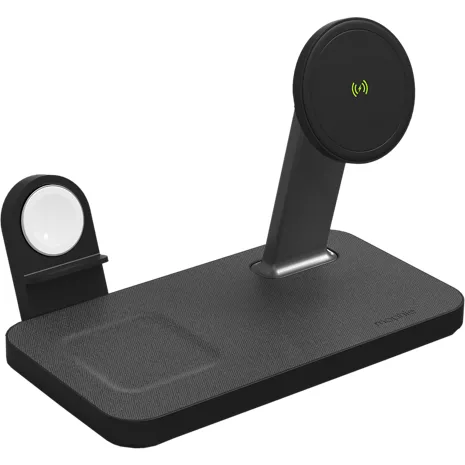 Pestaña Resumen seleccionada 1 de 4
Inicio de sección Resumen
Keep your devices fully charged with the 3-in1 wireless charging stand with watch adapters. Made in part with up to 30% post-consumer recycled plastic, this sturdy charging station has a weighted steel base to keep it in place. Delivering up to 15W of wireless charging power, you can charge a smartphone, smartwatch and earbuds simultaneously. Watch adapters are included for both Apple and Samsung watches, as well as a designated spot for your earbuds. Charge your phone in portrait or landscape mode. And, it includes a snap adapter so you can use the MagSafe compatible phone charger to charge any Qi-enabled device.
Reseñas
67% of reviewers recommend this product.
Feels flimsy. Bulky plug.
I was excited to have a charging option that would rapid charge my Apple Watch, but this one is so lightweight, I had to use 3M Velcro strips to secure it down to my nightstand since trying to lift my phone off the MagSafe connection meant lifting the entire charging stand or knocking it off the nightstand. The fact that there's also no cable management for the Apple Watch charger is a ridiculous oversight in "design" and is laughable. Also, the proprietary power adapter is MASSIVE! I think it would have been much smarter to place build the power converter into the base and have a smaller plug. That might even give the base the additional weight it needs to stay more firmly planted.
zagg.com Publicado originalmente en zagg.com
Quality and Convenient
I use this to charge my iPhone 13 Pro Max and Apple Watch. I will use it to charge my new AirPods as well. I love the convenience of charging all devices simultaneously in the same spot. The stand is sturdy and attractive. Please include in description of product that you need an Apple Watch charger with a USB-C connector .
zagg.com Publicado originalmente en zagg.com