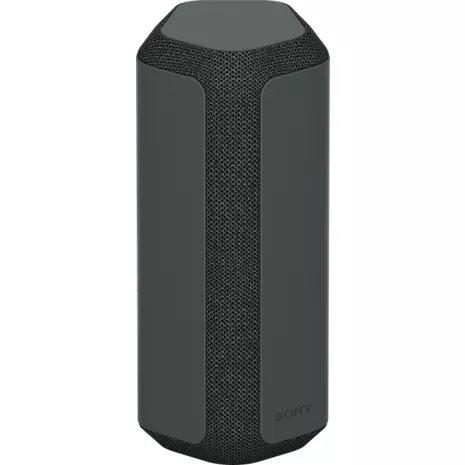 Pestaña Resumen seleccionada 1 de 4
Inicio de sección Resumen
Dance the night away with the Portable X-Series XE300 Bluetooth Speaker. The wide sound staged design provides powerful, clear, distortion-free sound. The IP67 waterproof, dustproof and rustproof design provides the strength to withstand the elements.¹ Microphone with echo-cancelling technology allows you to take calls while streaming with Bluetooth® or while connecting through the 3.5mm jack. And, with up to 24 hours of battery life, you can dance the night away, and quick charge through the USB Type-C port.²
Powerful sound.
Line-shaped diffuser distributes music evenly across a wide space. The X-balanced speakers and dual passive radiators pump up the bass for powerful, crisp sound.
Go further with the app.
Personalize your listening experience with the Sony | Music Center app. Manage sound control, set EQ settings and more.
¹ IP67 waterproof rating. Can be immersed in water up to 1m for up to 30 minutes.
² Battery life and charge cycles vary with use, settings, and other factors; actual results will vary.
Reseñas
98% of reviewers recommend this product.
Big soud
Sí, recomendaría este producto.
I have the XE200 and it lacked on the low end which hurt the overall sound. The XE300 fixed the lower frequencies and sound full with good detail. Where you place these speakers make a huge difference, in a corner with the 200 helped bass a bunch but the 300 it could be too much bass and get a little boom. I would definitely recommend this speaker and there app.
Sony North America Customer Support - 4 days ago
Hi Stretch440, Awesome! You definitely made the right choice! It's amazing to hear you appreciate the superb features, especially the incredible audio quality this speaker delivers. The XE300 speaker is perfect for bringing quality sound to your party. The Line-Shape Diffuser sends a wide sound all around, without compromising on quality. Plus, with a long battery life, portable size and impressive durability, this speaker is the perfect partner for your next party, wherever that might be. Thank you for your purchase and for the 5-star rating! -Jess
sony.com Publicado originalmente en sony.com
Great product
Puerrorican51 . 15 días hace
Sí, recomendaría este producto.
A friend recommended this to me and it was a great buy
Sony North America Customer Support - 15 days ago
Hi Puertorican51, That's awesome! We're glad to hear that you like the speaker. The XE300 speaker is perfect for bringing quality sound to your party. The Line-Shape Diffuser sends a wide sound all around, without compromising on quality. Plus, with a long battery life, portable size and impressive durability, this speaker is the perfect partner for your next party, wherever that might be. Thank you for choosing Sony and enjoy your speaker! -David
sony.com Publicado originalmente en sony.com