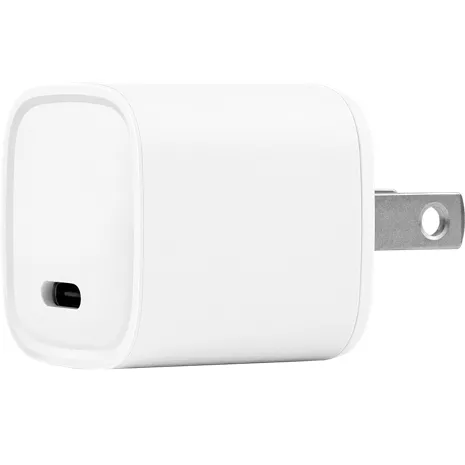 Pestaña Resumen seleccionada 1 de 4
Inicio de sección Resumen

Your purchase of this product helps us in our commitment to support climate protection. Learn more at
citizenverizon.com
Keep your devices fully charged with the Wall Adapter 20W USB-C. This UL-certified compact charger provides up to 20W of PD fast charging and PPS to maximize charging efficiency. And, it's made in part with up to 30% recycled plastic with plastic-free packaging for an eco-friendly design.
Fast, powerful charging.
Verizon phone chargers have faster charging and are more energy-efficient for most devices with up to 45% faster charging speed.¹
Quality design.
Verizon accessories go through multiple rounds of rigorous testing for certified quality and durability. Verizon also offers a one-year limited warranty on our charging accessories.
Easily available.
Pick up a Verizon phone charger with your new phone purchase. All of our accessories are available both on our website and in stores.
¹. Based on independent testing.
Reseñas
83% of reviewers recommend this product.
Another plug to collect
Sí, recomendaría este producto.
Would have liked to be a standard usb port instead of a C . After years of standard usb plugs now I need to start a new collection
Another
Your new "free" phone doesn't come with a plug (which they don't tell you, and you realize after you get home and open the box) so you're forced to make another trip to Verizon & purshase one for $20!
The Verizon Team - 18 hours ago
Hey there, Fuller. We value your input, and we'll make sure to share it internally. Feel free to reach out to us at android-appsupport@verizon.com with any additional feedback or concerns.