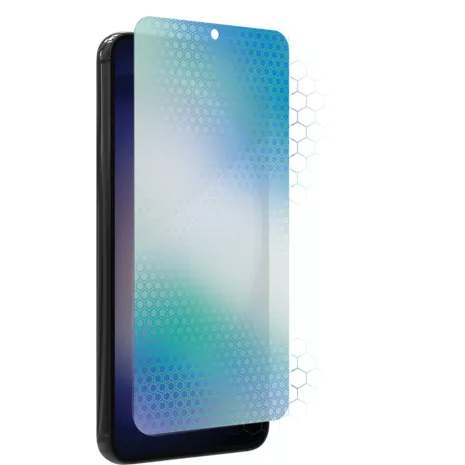 Pestaña Resumen seleccionada 1 de 4
Inicio de sección Resumen
Protect your screen from cracks and scratches with the InvisibleShield Fusion XTR2 ECO Screen Protector Galaxy S23.
Made with up to 50% post-consumer recycled materials, hybrid screen protection incorporates Hexiom technology to disperse the force of impact.
Anti-reflective technology decreases reflection and increases light transmitted to improve clarity.
It's engineered to be compatible with most biometric scanners.
And, the new adhesive installs smoothly over most dust.
Protective Eyesafe layer.
Protect your eyes from fatigue and other eye strain symptoms.
The enhanced Eyesafe layer filters up to 40% of blue light.
Antimicrobial treatment.
The screen protector contains antimicrobial treatment that protects against degradation from microorganisms.
Easy application.
The included Applicator Tool makes it easy to install your screen protector without any bubbles or bumps.
Reseñas
66% of reviewers recommend this product.
Easy application literally ever!
Sí, recomendaría este producto.
It's not as thick as I had hoped, so it won't be helpful for huge scratches, but it's great for everyday crap you put your phone through!
Fingerprint works through it, and I missed that!
Bit pricey, but you gotta pay the price for one that fits EXACTLY and was the easiest and painless application I have ever had.
They send a cool jig setup to place your phone in that holds the actual protector over it for you, and I cannot get over how painless the process was.
I wasn't even sure it was on my phone for a minute bc it was seamless and I didn't get a single hair or bubble in it!! I would give 5 stars for the application alone, but the gouging price and the less protection than anticipated made me take one off.
You get the jig, alcohol wipe, a mini squeegee, and a microfiber cloth included to help.
Dishonest Business - Poor Customer Service
ZAGG offers a "lifetime warranty" (which was the main reason I bought this product) yet refuses to cooperate.
You have to dig for contact info to reach out directly, and even though I've registered the product through their official website, they can't offer me a product of similar value OR a replacement for the screen protector I purchased.
They hide behind the fact they're "out of stock" despite being IN stock at Verizon, Amazon and other retailers.
I'm hoping by leaving this review here, in honestly and good faith, that a ZAGG or Verizon representative would be moved to reach out, and if not, it only confirms what I already believe - ZAGG is a dishonest company which refuses to be held accountable for their own warranties/guarantees.