Snapchat 101: What It Is and How to Use It
You've probably heard of Snapchat, but do you know how it works?
Snapchat, which has become hugely popular, lets you share images or video clips to your friends. But there's a twist: They can only be viewed for a matter of seconds.
So how exactly does Snapchat work? Here are answers to some of the more common questions about the app's main features.
Can you edit photos like you can with Instagram?
Yes. Snapchat doesn't offer as many filters as Instagram, but it does include a selection of fun editing tools for sending photos and videos to your friends:
Filter: Swipe left or right on your photo for filters that can denote the outside temperature, your speed, the time, geographical locations and more.
Draw: Tap the pencil at the top-right of your screen to draw over your photo or video. With the color spectrum, you can turn an average selfie into a cool piece of art.
Type: Tap the "T" on your photo/video to add personalized text. It will first appear in a black box, but keep tapping to see your options for left- or center-aligned white text.
Tip: Tap the icon beside the timer to instantly save the photo to your phone's gallery.
What do the Snapchat emojis mean?
Snapchat now features friend emojis that only you can see. Por ejemplo: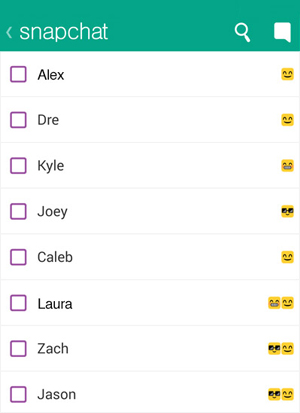 Grimace: You share the same number one best friend.
Smile: Someone you send snaps to frequently.
Sunglasses: You and that friend are on the "smile" level with each other.
Smirk: This friend snaps you a lot, but you don't really snap them that often.
Fire: You and a friend are sending snaps back and forth for consecutive days—better known as a "Snapstreak."
Tip: Remember that your real-life friendships shouldn't be summed up by an emoji, so take the friend rating lightly.
Is there any easier way to find my friends than asking for their username?
Yes. Snapchat has made it convenient to add your friends without having to reach out to them:
Contact list: Simply link your smartphone's contact list to the app. Not only can you add your friends by tapping their name, but this allows your friends to add you as well. It also makes it easy to tell who has the app.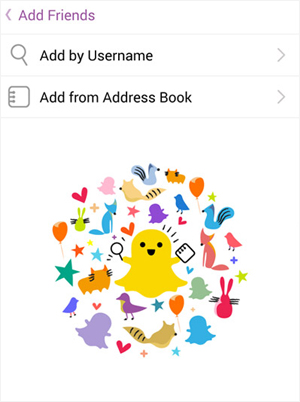 Snap to Add: If you're with someone you want to add, open up your Snapchat camera and hover your device over your friend's ghost on their Snapchat profile screen. Simply tap the ghost on your screen and you'll instantly be official Snapchat friends.
Tip: Regret adding someone to your friends list? You can block or ignore "friends" by going to your My Friends screen. Tap on the user's name, then tap on the gear icon to find the block or ignore options.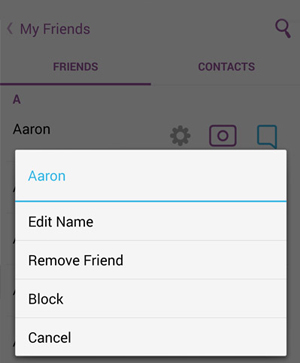 Can I message friends without sending photos or videos?
Yes. Snapchat actually includes messaging features similar to apps like Facebook Messenger:
Chat: Tap on the speech bubble at the top-left of your screen-then simply pick which friend you'd like to message. Once you're on the messaging screen, you can start your convo or tap the yellow button to send a photo or video.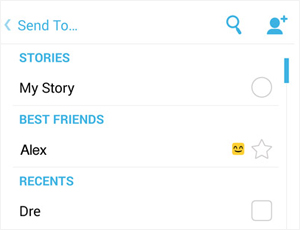 Here: If you and your friend are online at the same time (or "here"), the yellow button will turn blue, which gives you a live video chat option similar to FaceTime.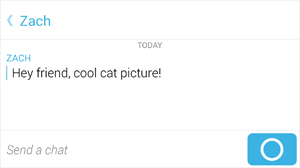 Tip: Your conversations will disappear once you leave a chat. If you don't want to forget what a friend said, double tap to save parts of that important talk.
Are Snapchat stories different from sending individual snaps?
Yes. Snapchat stories are groups of images or videos that don't vanish after the usual 1 to 10 seconds:
Duration: Snapchat stories are available for 24 hours and can be viewed repeatedly until the time limit is up. Afterward, the photos and/or videos disappear.
Posting: You can post a Snapchat story two different ways. You can tap the add to stories icon (square with a plus sign) or the arrow at the bottom-right of your screen. Once you hit the arrow, tap My Story at the top to add the photo or video to your feed.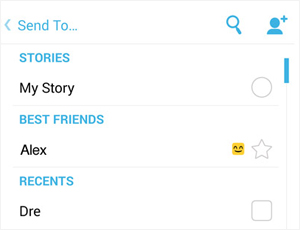 Tip: Remember to be completely sure about what you're creating as a story—because it won't go away for 24 hours.
Is Snapchat only meant for sharing with friends?
No. At the top of your stories feed, tap the purple circle to explore one of Snapchat's newest features, Discover, which allows you to delve into exclusive content from networks partnered with Snapchat:
Teams: CNN, Comedy Central, Vice, ESPN and others have teamed up with Snapchat to provide original stories. These are updated daily.
Navigate: Tap on a channel of your choice and then swipe up to read an article. Swipe right to find more articles, and swipe left to return to the Discover page.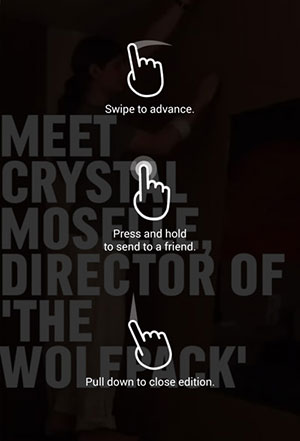 Tip: You can snap Discover stories to your friends by holding down your finger and tapping the arrow that will appear in the bottom-right of your screen.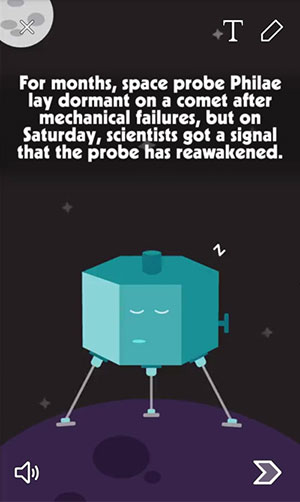 El contenido antes mencionado se comparte solo con fines informativos. Toda la información que se incluye en esta página está sujeta a cambio sin aviso. Verizon is not responsible for any direct or indirect damages, arising from or related to use of or reliance on the above content.