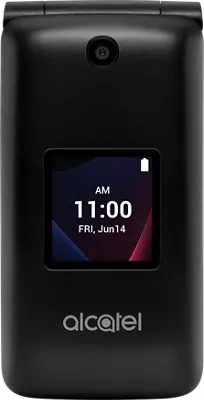 Los pagos mensuales que se muestran son para los clientes elegibles para pagar $0 de pago inicial, $2.77/mes por 36 meses; 0% APR. Precio de venta al público: $99.99. Cargo único por activación de $35.
Con conexión 4G LTE, el clásico GO FLIP™ V tiene todo lo necesario para mantenerte conectado y productivo estés donde estés. Las teclas retroiluminadas grandes y las
funciones sencillas
, como los botones de texto y de la cámara, hacen que este teléfono sea fácil de usar. La pantalla LCD interna ofrece mucho espacio para leer mensajes de texto, revisar el calendario, los contactos y mucho más. Siente todo el poder con Verizon, la red más confiable.
Reseñas
191 reseñas
de las reseñas recomiendan este producto.
Good option for a basic flip phone. Some quirks as the all have but this one is worth buying
I have used this phone for about 8 to 10 months now. It has a SD card so you can import your contacts via a vcf file. It supports bluetooth , I have had no problems with voice clarity or call clarity. text messaging is very good, MMS is a little clunky adding or seeing multiple names on a text, but you will learn around that. I don't use the email or internet option so I cannot comment on that. Pictures are decent enough (during day light - forget low light pictures). If your looking for a basic phone, rest assured with this one. Plan to be a little adaptable with a few quirks but its far from the Nokia garbage. I wasn't a huge fan of the soft buttons at first but over time they are just fine.
No real option for Seniors
No good Flip phone option · 26 days ago
All the flip phones are better for Seniors as the buttons are protected from being pushed inadvertently such as with the iPhone. Unfortunately, the buttons on these phones are so small and pushed together that you cannot determine where one button ends and another begins for seniors who can't feel their fingertips much any more or their dexterity isn't as functional. Why isn't there a Flip or hone with bigger single buttons which aren't as close together and are delineated in bold bright colors? Seniors rely on these devices in case of an emergency. Families need to stay in touch with them any time. Seniors independence depends on these phones in some cases. Please someone find a better easier to use phone for Seniors and the disabled.
*Todas las afirmaciones sobre la duración de la batería son aproximadas y están basadas en un perfil de uso combinado (que incluye el tiempo de uso y espera) siempre que haya un óptimo funcionamiento de la red. El rendimiento real de la batería varía y depende de muchos factores, incluidos la intensidad de la señal, la configuración de la red y dispositivo, la temperatura, el estado de la batería y los patrones de uso.