Cámara de seguridad Arlo Go 2 LTE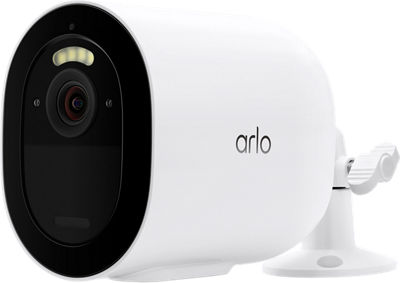 Customize
Blanco
Monthly payments shown are for customers who qualify to pay $0 Down, $8.33/mo for 30 months; 0% APR. Retail price: $249.99. One-time activation fee. of $35.
Get it fast
Select shipping options at checkout. Subject to eligibility.
Arlo's most flexible full HD camera gives you intelligent security at more locations than ever. Arlo Go 2 delivers 100% wire-free security with LTE or Wi-Fi connectivity without a hub.1 Crucial for moments when Wi-Fi is down, LTE cellular backup can continue to protect your property without missing a moment. View and record clear HD video during the day and see more at night with an integrated spotlight and color night vision. Locate your camera with GPS positioning and retrieve videos from the locally stored microSD card in the camera, or conveniently view live video or recorded cloud clips directly from your phone with Arlo Secure.2,3 Hear and speak to visitors clearly with two-way audio or ward off unwanted visitors by triggering the built-in siren, remotely or automatically. Weather resistant to withstand heat, cold, rain, and sun, Arlo Go 2 is designed to protect your property, boat or RV, year-round. And now you can pair it with Verizon, the network more people rely on.
Reviews
3.0/5
12 reviews
33%
of reviewers recommend this product.
ArloGo gen 2 is soooo much better than gen 1!
I do lost dog recovery in my area and the invention of ArloGo cameras as of 3 yrs ago were a game changer for getting dogs home. Unfortunately there has been a lot of frustration with the gen1 cameras having weird quirks, like going offline (for example) for no reason (which often required a trip to the middle of nowhere to reset by removing the battery), which can be nerve racking when you have a live trap set and need the cameras to be truly reliable. So far the gen2 ArloGo has been AMAZING! I don't get motion notifications with no video uploads to accompany it (like I still do with my still-in-use gen1's), the video is clearer, it has been way more reliable in every aspect. Even the mount is a better design - PLUS, they are more reasonably priced than gen1! I am replacing all three of my existing gen1 cameras and have added a 4th gen2 for my wayward dog arsenal. Now to just get gen2 skins to hide the glaring white of the camera (don't need to draw attention to these when set up in sometimes sketchy spots - but at least they FINALLY have a way to track them with built in GPS if they DO get stolen) and I'll be a happy consumer!
For such a big battery it doesn't last long on LTE
The cameras work better than the old style, but I don't understand how a massive 14000ma battery only last 11 days on LTE. The cameras we have on wifi lose maybe 1% a day. Verizon signal strength is at least 4 bars and they lose 9-11% a day without even being armed or used more than a few seconds a day
HI Kvaughn, Thank you for taking the time to share your feedback. We would appreciate the opportunity to work with you to address the concerns you shared above. Please send us an e-mail at askarlo@arlo.com and please provide a copy of your review and include your case number (if applicable), email address associated with your Arlo account and your phone number. We look forward to hearing from you. Regards, Arlo Team
1. Requires compatible device and wireless service plan. Additional restrictions and data charges may apply. Coverage and service dependent on carrier.
2. MicroSD card required, sold separately.
3. Arlo Secure includes cloud recordings of video clips at 2K or lower resolution for 30 days. Renewal of an Arlo Secure subscription is required to maintain Arlo Secure features, including cloud storage.
4. Arlo Secure service not available in certain counties. See
www.arlo.com/ArloSecure
for details.