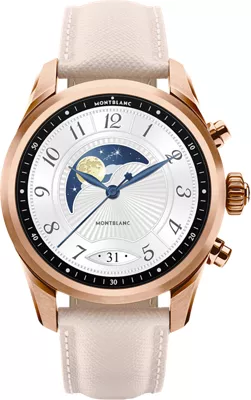 Monthly payments shown are for customers who qualify to pay $0 Down, $32.50/mo for 36 months; 0% APR. Retail price: $1170.00. One-time activation fee of $35.
The SUMMIT 2+ blends Montblanc's signature look and feel with cutting-edge technology for a luxury, classic-looking timepiece that s unlike anything you've ever experienced. This Android-compatible1 device is crafted using only the finest materials. High-grade leather and rubber straps, stainless steel housing and a durable Sapphire crystal make for an elegantly-styled smartwatch that s as refined as it is reliable. And with a selection of customizable watch faces and straps for both men and women, you can build a SUMMIT 2+ that is as unique as you are. Exclusive features and personalized apps help make this smartwatch the perfect connected companion.1 Make calls, send texts, stream music and receive notifications with always-on LTE connectivity from Verizon, America s most awarded network.
Reseñas
18 reviews
of reviewers recommend this product.
Apple 6
Yes, I'd recommend this product.
I been with the apple 6 about 2 yrs and I can say what a super watch the battery lasts over 24 hrs I sometimes fall asleep with it on and it still has battery life it gives me no kind of problem I work with it in and unforgiving environment HVAC that is it keeps me accurate even in the worst temperatures
Do NOT buy!!!
Blayne Souglas · 2 months ago
Garbage. Couldn't activate for Galaxy Ultra s21+. I tried with 3 Summit watches.
1. The companion phone that is paired with the Wear OS by Google device must be an Android 6.0+ phone or later (excluding Go edition).
2. Based on average battery life under typical usage conditions. Average expected performance based on typical use. Actual battery life depends on factors such as network, features selected, frequency of calls, and voice data, and other application usage patterns. Results may vary.