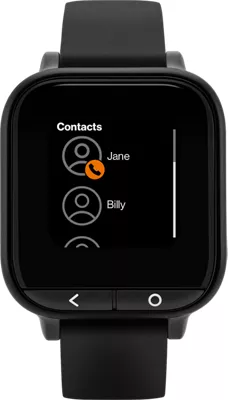 Monthly payments shown are for customers who qualify to pay $0 Down, $4.16/mo for 36 months; 0% APR. Retail price: $149.99. One-time activation fee of $35.
Care Smart watch is an easy-to-use smartwatch designed for seniors. With features like streamlined calling and texting, text-to-speech, reminder settings, and one-button emergency contact calling,1 this device helps seniors stay connected and puts family members' minds at ease. Using the Care Smart app2 caregivers can add up to 10 trusted contacts3 as well as manage useful things like medication reminders and location alerts. A large easy-to-read display, simple navigation and pre-set text replies make Care Smart a trusted, everyday companion that seniors and caregivers can rely on. Stay connected with your loved ones with the Care Smart watch and Verizon, America's most awarded network.
Reseñas
53 reviews
of reviewers recommend this product.
Don't like it.
Do not like it at all. Not as I expected and want to return it..
1. Only one designated emergency contact can be called, which must be created during setup.
2. Data usage applies for app download and use.
3. Numbers must be registered through the Care Smart App. Care Smart watch permits up to nine contacts in addition to the primary registered caregiver.
4. Dependent on carrier coverage. Device must be turned on. Consent to location tracking is required during pairing; the watch will receive notifications about location tracking 24 hours after pairing is complete, and at 30-day intervals thereafter. These notifications let wearers know that their location is being shared with their Trusted Contacts. Verizon makes no representations or warranties about the availability or accuracy of the GPS or about the accuracy or completeness of any map data or other information.