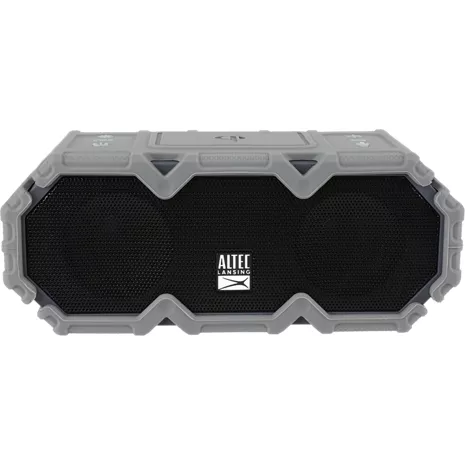 Pestaña Resumen seleccionada 1 de 4
Inicio de sección Resumen
Keep your phone fully powered while dancing the night away with LifeJacket Jolt with Lights Portable Bluetooth Speaker. 5 LED light modes - Multi-Color Slowfade, Beat to the Music, Solid Blue, Slowfade and Off - allow you to set the tone for your dance party right from the speaker.
Amplify your sound through up to 50 speakers with House Party pairing and a 100-foot wireless range.
Check-in with your voice assistant through the Just Ask feature.
And with an IP67 waterproof rating, your speaker is safe against water, snow or dirt and it floats.²
Keep your devices charged.
This compact portable speaker has a built-in Qi wireless charger and USB smartphone charger so you can listen to tunes while charging up to 2 devices.
With up to 30 hours of battery life, you can charge your phone and still listen to your favorite playlist all the way through.¹
¹Battery life and charge cycles vary with use, settings, and other factors; actual results will vary.
²IP67 waterproof rating.
Can be immersed in water up to 1m for up to 30 minutes.
Reseñas
88% of reviewers recommend this product.
Not worth the money
Does not hold a charge and does not give no sign that the battery is low just shuts off
AltecLansingCustomerServ - 6 months ago
Hi Brandon - we're sorry to hear you're having this issue with the LifeJacket Jolt. Please reach out to us on our social media channels (Facebook: @alteclansing, Instagram: @alteclansingoffical) or by phone at 1-855-292-4087.
We'd be happy to assist you with this issue.
bad battery
ualeriend . 11 meses hace
Sí, recomendaría este producto.
my battery went bad and can't get a new one. it is now a $100 door stop.
AltecLansingCustomerServ - 10 months ago
Hi there - thank you for your feedback.
Your experience is important to us, and we would appreciate hearing more about it so we can make things right!
Feel free to contact us by phone at 1-855-292-4087 or by our social media channels (Facebook: @alteclansing, Instagram: @alteclansingoffical) anytime.
Thanks again!