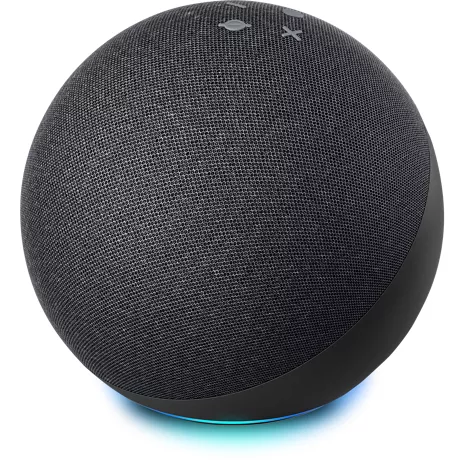 Obtenlo rápido
Selecciona las opciones de envío al pagar. Sujeto a elegibilidad.Detalles
Conoce el Echo (4.ª gen.) con Alexa. Este altavoz inteligente adaptable puede llenar una habitación con música, lo cual te permite controlar con tu voz tu entretenimiento. El Echo funciona como un hub de hogar inteligente integrado para dispositivos compatibles. Está diseñado para proteger tu privacidad, para que tu información esté segura. Y con Alexa Guard, tendrás tranquilidad cuando no estés en casa.

Sonido adaptable.
Los altavoces potentes del Echo se adaptan a cualquier habitación para ofrecer un sonido potente e intenso, con altos claros, medios dinámicos y bajos profundos. Reproduce música, responde preguntas y haz llamadas con Alexa, y seguro que escucharás cada nota, letra y palabra.

Automatiza tu día.
Usa la aplicación Alexa para crear rutinas, lo cual te permite hacer varias cosas a la vez. Puedes configurar una rutina para comenzar con tu voz, una alarma, a una hora establecida, o a través de interacciones con otros dispositivos del hogar inteligente compatibles. 

Controla tu hogar con tu voz.
El hub de hogar inteligente Zigbee integrado te permite configurar y administrar con facilidad tus dispositivos inteligentes Zigbee compatibles o dispositivos del hogar inteligente compatibles con Alexa solo con tu voz.

Mantente conectado.
Observa otras habitaciones de tu hogar con dispositivos Echo compatibles para ver a tus hijos o hacer un anuncio a través de ellos. Incluso puedes mantenerte en contacto con amigos y familiares con llamadas manos libres.
Reseñas
100% de las reseñas recomiendan este producto.
I love it !
Sí, recomendaría este producto.
It's everything I expected the sound quality is very enhance.
Love echo's!
Sí, recomendaría este producto.
[Esta reseña se recopiló como parte de una promoción.] I've been using this newest generation of echo for about a month. I have several of the older generation Echoes within my home as well as Echo dots and Echo shows. I even have an echo Studio and I guess you could say that we love echos around this house! The product works amazingly! The unit works very well! The speaker quality is amazing!!! It picks up our voices easily and at least 95% of the time from across the room. My only complaint, and it's a small one, it's the big round shape. I know that that's to imitate a piece of art or to be any more visually appealing but for us we just prefer the smaller version. It is much less obtrusive in our decor and it's easy to tuck in behind other things where this machine is not. Other than that one very small detail we love this one as much as we loved all the others!