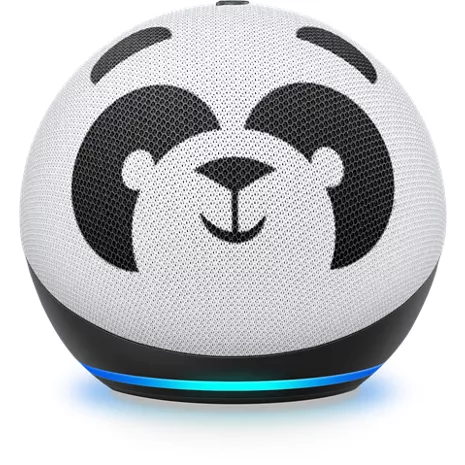 Pestaña Resumen seleccionada 1 de 4
Inicio de sección Resumen
Meet the Echo Dot (4th Gen) Kids Edition - a kid-friendly smart speaker with Alexa. This super-fun smart speaker is designed with both kids and your family's privacy in mind.
Packed with skills and features designed to help your kid learn and grow, your little one can dive into all kinds of kid-friendly content.
And easy-to-use parental controls in the Amazon Parent Dashboard are designed to help keep your child safe.
Made for wild imaginations.
Encased in super-cute animal designs, this Echo Dot is made for big imaginations.
Kids can ask Alexa to play music, read stories and call approved friends and family.
Help kids learn and grow.
The Echo Dot is packed with skills and features to encourage learning.
Ask Alexa for help with homework, and you can even set an alarm with the voice of their favorite character.
Peace of mind for parents.
Parental controls with Amazon Kids and the Amazon Parent dashboard make it easy to set daily time limits and review activity.
Alexa also automatically gives kid-friendly responses, filters explicit songs and blocks shopping.
Unlock a world of kid-friendly content.
The Echo Dot (4th Gen) Kids Edition comes with a free year of Amazon Kids+.¹ This gives your kid access to hours of fun and educational content.
Check out audiobooks from Audible, play interactive games and engage with skills that make it fun to learn.
1. After free year ends, Amazon Kids+ subscription is $2.99 per month.
Reseñas
100% of reviewers recommend this product.
Awesome
Sí, recomendaría este producto.
It's wonderful my son loves it
Greatest thing I ever purchased
Sí, recomendaría este producto.
My daughter she listen music and she practice all the time math with Alexa ,I just love it how interesting is to know so many things with Alexa