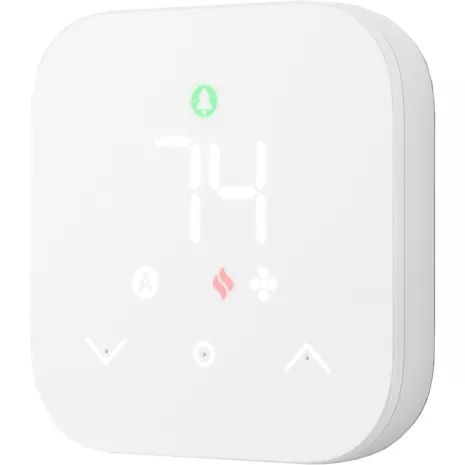 carrusel con 1 diapositivas
Make a smart upgrade to your home heating system with the Smart Thermostat. Made with Honeywell Home Thermostat Technology, these ENERGY STAR certified thermostats are backed with up to 130 years of experience and can help you save an average of up to $50 on yearly energy bills.¹ Track and manage your energy use with an easy-to-use dashboard. And, you can install the thermostat easily yourself with the Alexa app, and reach out to customer service as needed.

Works with Alexa.
Set your automatic controls and have Alexa updating the temperature throughout the day to help you stay comfortable. Or, you can set it yourself from your mobile phone with the Alexa app.



¹ For EPA's ENERGY STAR requirements, visit energystar.gov.



Reseñas
86% of reviewers recommend this product.
Works great
Shmooie81990 . 1 año hace
Sí, recomendaría este producto.
[This review was collected as part of a promotion.] I got my Amazon smart thermostat about a month ago and I love the features and ease of use it has given me. My favorite part of this new smart thermostat is being able to control it from my phone even when I'm away from home. It makes it a lot easier to have the house how I need it to be.
Amazon Devices Publicado originalmente el Amazon Devices
Loovveee it!
Sí, recomendaría este producto.
[This review was collected as part of a promotion.] This is the best thermostat ever! We are so in love with every single feature. I love being able to control the temperature from my phone when I am away from home, how I can tell Alexa that I'm leaving or that I'm home and she'll adjust the temp to my liking. I can't believe we haven't got one sooner!
Amazon Devices Publicado originalmente el Amazon Devices