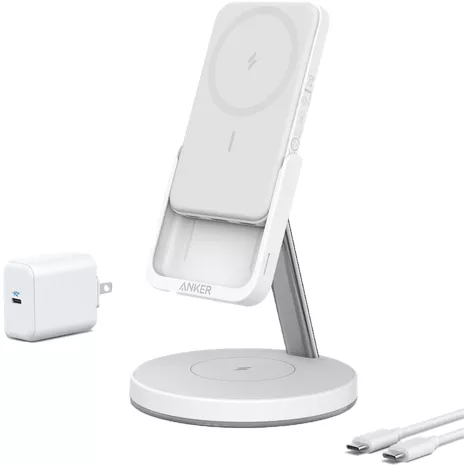 Pestaña Resumen seleccionada 1 de 4
Inicio de sección Resumen
Keep your devices fully charged with the MagGo 2-in-1 Magnetic 5K Battery Stand. This slim and compact stand features 2 charging pads, allowing you to charge both your phone and earbuds simultaneously.
Hold your phone near the magnetic charging surface and watch as it instantly snaps into place for effortless charging.
And, the phone charging pad allows you to charge both horizontally and vertically, as well as rotate up to 40 degrees for comfortable viewing.
Charge on the go.
Slide the slim 5,000 mAh portable charger out of the stand to power your phone while on the go.
The portable battery holds up to 17 hours of battery life.¹
¹Battery life and charge cycles vary with use, settings, and other factors; actual results will vary.
Reseñas
50% of reviewers recommend this product.
Malfunction..
I'm here after about a year of purchase the Anker 633 Magnetic Wireless Charger(MagGo).
The first issue was that the charger to the battery was not charging my phone when it was placed on the charger.
I've reached out to anker and they were very nice and replaced me a new one.
They sent me a new one but it seemed like the product looks like it was used; a refurbished one.
Now after a year the battery doesn't even charge my phone when it's not on the stand anymore.
I don't know if the battery have a life use; like if I use it for lets say about 25 times and need a new battery? or is it because I left it in the stand for too long?
But anyways my battery from full to empty in just a second when it's removed from the stand.. I don't think I'll be buying any anker chargers anymore.
Anker Publicado originalmente en Anker
Multifunctional!
It is an amazing charger with great versatility.
Easy to use as a stand for your phone, take the battery pack on the go, and charge AirPods all in one!
You are getting three unique offerings with this product.
Anker Publicado originalmente en Anker