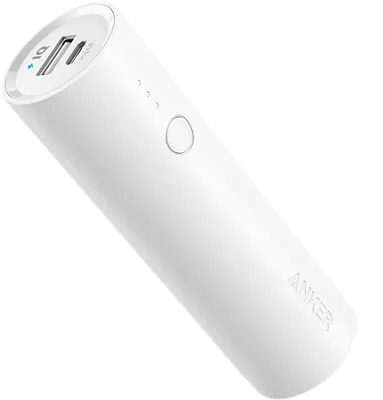 La avanzada tecnología del cargador portátil PowerCore 5000 rompe el molde de la carga portátil, donde la alta capacidad no se traduce en un diseño pesado. Proporciona 23 horas extra de duración de la batería para smartphones y otros dispositivos.* El sistema de seguridad MultiProtect protege contra las sobrecargas y previene los cortocircuitos para protegerte a ti y a tu dispositivo. Es compatible con la mayoría de los dispositivos móviles y es extremadamente portátil.

Mucha potencia.
Con 5000 mAh de potencia, este cargador portátil tiene capacidad suficiente para proporcionar una carga de reemplazo completa para dispositivos de varias marcas. 5000 mAh es el total de la capacidad nominal de las celdas internas de la batería.

Ultracompacto.
Con un diseño tan pequeño que pasa casi desapercibido en cualquier bolsillo o bolso, el diseño cilíndrico ofrece una notable relación capacidad-tamaño.

Carga rápida.
El cargador portátil PowerCore 5000 tiene 2 tecnologías diferentes de carga rápida. PowerIQ proporciona una carga rápida, mientras que VoltageBoost aumenta la salida para superar la resistencia del cable y garantizar una carga a una velocidad máxima consistente.

*La duración de la batería y los ciclos de carga varían según el uso, las configuraciones y otros factores; los resultados reales variarán.
Reseñas
22 reseñas
de las reseñas recomiendan este producto.
I've had this pocket
kimberleir · 3 months ago
I've had this pocket juice for atleast 3 years and it has worked great the whole time! It has 3 indicator lights to show that it's on or off and how much charge is left! It's small and compact and can easily fit in a pocket or purse or bag. It's round but has two flat sides so it can stand straight up when you are not using it or when you are, and during charging. Overall I'd definitely recommend!
Love
Love this charger. I've been purchasing Anker products for a while now, and this product is a great example why I keep coming back