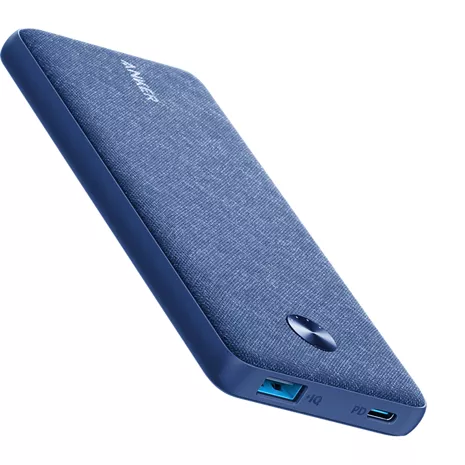 Pestaña Resumen seleccionada 1 de 4
Inicio de sección Resumen
Keep your device fully charged while on the go with the PowerCore Metro Slim 10K PD.
This slim, powerful 10,000 mAh charger stores up to 48 extra hours of battery life,* so you don't have to worry about your phone dying while you're on the move.
With 3 different charging modes, it can efficiently power most devices, from phones with 18W Power Delivery fast charge, to a trickle-charging mode for low-power devices.
The soft, fabric coating gives the charger a luxury look and feel.
And, with a Power Delivery USB-C charger, it can rapidly recharge in 4.5 hours.* 10000 mAh is the total of the nominal rated capacity of internal battery cells.
*Battery life and charge cycles vary with use, settings, and other factors; actual results will vary.
Reseñas
67% of reviewers recommend this product.
If you travel alot
If you travel alot and are constantly charging your phone then this is for you, you can charge multiple devices fast on the move with ease.
Anker Team - 1 year ago
So glad you love the product!
Thank you for your support.
We are super excited to provide something that betters your life.
We promise to continue striving to exceed your expectations!
Remember your device comes with an 18-month warranty, and anytime you need help just let us know.
Email: support@anker.com
Phone number: +1 (800) 988 7973
influenster.com Publicado originalmente en influenster.com
doesnt work. Verizon ripping people off yet again
its crap. and Verizon are terrible because they rip people off with a $50 restocking fee.
Verizon is a terrible company
Anker Team - 1 year ago
Thank you so much for sharing your experience.
We're really sorry you've encountered this issue!
If possible, please try the following steps to see if the issue persists:
- To recharge the battery itself, try another wall charger, wall outlet, and cable
- To charge another device, try another cable and try the powerbank on another device
If those don't help, please reach out to us via support@anker.com or call us at +1 (800) 988 7973.
We are more than happy to assist you further.
We offer an 18-month warranty for this product, plus lifetime technical support.
Our standard for responding to email quests is less than 24 hours, and we look forward to hearing from you!