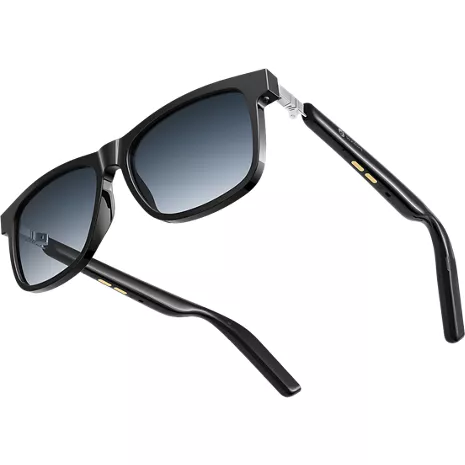 Pestaña Resumen seleccionada 1 de 4
Inicio de sección Resumen
Take your calls and listen to music in style with the Soundcore Frames Justin Classic - Bluetooth Audio Sunglasses. These fashionable frames have interchangeable styles to fit your favorite look. Stream your best playlist via Bluetooth®. Polarized lenses protect your eyes from UV rays. And, with an IPX4 water-resistant rating, your sunglasses will be protected from sweat and the elements.¹
¹ IPX4: Withstands splashing water. Do not submerge.
Reseñas
95% of reviewers recommend this product.
Terrible product
Do not order these they connected to my phone once and refuse to connect to it again there is a reason you cant find them if you try to buy them on the soundcore website waste of money
Anker Team - 1 month ago
Dear Customer,
I am truly sorry to hear that you are experiencing this issue. We understand how frustrating it can be and we appreciate your patience.
Please rest assured that we stand behind our products and are willing to provide assistance within our capacity. We are committed to ensuring your satisfaction and resolving your concerns promptly.
You can reach out to us via service@soundcore.com or call us at +1 (800) 988 7973. Our customer service team is always ready to help you.
We look forward to your message so we can address your issue as soon as possible. Thank you for bringing this to our attention and giving us the opportunity to make things right.
Best Regards,
Very good last full workday
Oaklandsunshine . 4 meses hace
Sí, recomendaría este producto.
Received a few days ago and finally got a chance to wear during work. I sweat a lot and these were able to hold up and still sound great. I enjoy these most for calls and listening to a podcast or quick YouTube video