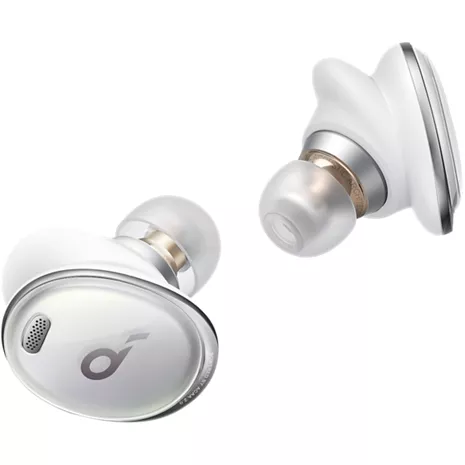 Pestaña Resumen seleccionada 1 de 4
Inicio de sección Resumen
Immerse yourself in your favorite tunes with the Soundcore Liberty Pro 3 Noise Cancelling Earbuds.
These fusion comfort-fit earbuds have a triple-point ergonomic shape for a comfortable, long-term fit.
The exclusive ACAA 2.0 coaxial dual driver technology delivers high and low-frequency sound directly to your ear for a lush sound.
And, personalized noise-cancelling with a wide selection of EQ modes and 3D surround sound filters out background noise for a high-quality listening experience.
Long-lasting battery.
The earbuds hold up to 8 hours of battery life in a single charge.
And with an additional 24 hours of battery life in the charging case, you can get up to 3 full charges from the case before needing an outlet.¹
¹Battery life and charge cycles vary with use, settings, and other factors; actual results will vary.
Reseñas
91% of reviewers recommend this product.
Great set of earbuds.
Sí, recomendaría este producto.
Very nice, the sound is great, not hard to connect to your device.
I am really enjoying these earbuds.
Great sound and earbuds but have to be in your ear a very specific
The earbuds work really well and have a fantastic sound quality although they have to be in your ear a very specific way or either the sound will be very dull or you just straight up won't hear it at all.
The design is kinda large and looks weird in my opinion no offense.