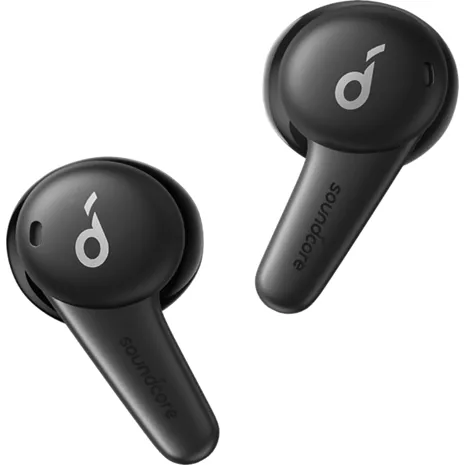 Pestaña Resumen seleccionada 1 de 4
Inicio de sección Resumen
Take your tunes with you on the go with the Soundcore Life Note 3S True Wireless Earbuds.
These one-size-fits-all earbuds are designed for comfortable, long-term listening sessions.
Oversized 13.4mm combined with BassUp Technology creates an exceptional sound experience.
Noise reduction technology with 4 microphones ensures that you can hear and be heard.
And, with sleeping mode, sleep-inducing white noise helps you fall asleep easier.
Long-lasting battery.
The earbuds hold up to 5 hours of playtime on a single charge.¹ And, the portable charging case provides up to an additional 30 hours of playtime.¹
Quick charge.
Need a quick boost? A quick 10-minute charge provides up to an hour of playtime.¹
Go further with the app.
Use the Soundcore app to customize your touch controls as you need them.
Intuitive touch controls allow you to adjust volume, activate voice assistants and more.
¹Battery life and charge cycles vary with use, settings, and other factors; actual results will vary.
Reseñas
61% of reviewers recommend this product.
Wont pair
Wont pair to my phones.
Dis all the troubleshooting and nothing works.
I should have read the reviews firsr before I purchase it.
It is a waste of money.
Do noy buy this.
Anker Team - 14 days ago
Thanks for sharing your experience.
I would like to present our deepest apologies for all the inconvenience.
I have documented your information and would forward it to our product team for further improvement.
You know, a perfect product requires several improvements per the customer's voice and we always strive to improve our products.
Appreciate your voice on this!
Please feel free to contact us via service@soundcore.com with your order information and problems.
We will always be more than happy to help you.
Nice Earbuds, Just Not For Me
My disappointment is not with the earbuds themselves.
I was very excited when I received them.
However, when I tried to pair them with my phone, it never would do it.
Apparently they just weren't compatible with my iPhone even though it said they were before I purchased them.
I had to send them back.
Very nice looking earbuds, and I'm sure I would have loved them had I gotten to use them.