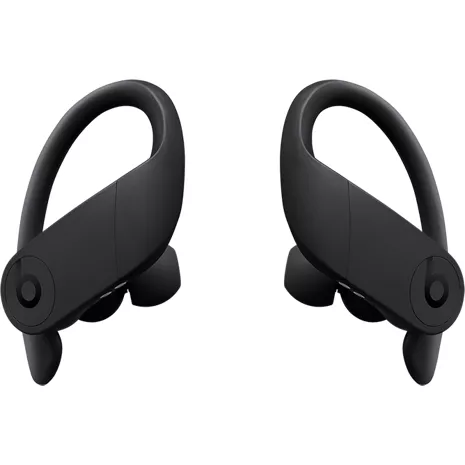 Pestaña Resumen seleccionada 1 de 4
Inicio de sección Resumen
Revolutionize your workouts with the Beats Powerbeats Pro. Designed for athletes, these high-performance earphones feature adjustable secure-fit earhooks for added comfort and stability.
Take on your even your toughest routines thanks to a powerful reinforced design that helps resists sweat and water damage.
Premium audio.
Stay in the zone with a dynamic, balanced acoustic package that increases audio range and blocks out unwanted noise.
A speech-detecting accelerometer and multiple microphones work together to enhance voice and weed out distracting background noises, making it easier to hold conversations in crowded environments.
Wireless that works.
Enjoy a smoother, more reliable wireless experience.
Class 1 Bluetooth® technology provides your headphones with improved range and fewer dropouts.
And pairing with an iPhone is a synch.
Just remove your headphones from their case and hold them next to your device to automatically connect to your Apple Watch, iPad or Mac.†
Power through your day.
Whether you're training for a marathon or putting in a few extra hours at the gym, the PowerBeats Pro's long-lasting battery has you covered.
It provides up to 9 hours of listening time on a single charge, or up to 24 hours when using the included charging case.* Using Fast Fuel, you can catch an extra 1.5 hours of playback time with just 5 minutes of charging.* Built-in motion accelerometers automatically detect when you're idle and put your earphones in sleep mode to further conserve energy.
*Battery power consumption depends on factors such as network configuration, carrier network and, signal strength.
†Requires an iCloud account and macOS 10.14.4, iOS 12.2 or watchOS 5.2.
CONTENIDO DE LA CAJA:
Un par de Beats Powerbeats Pro
Estuche de carga
Audífonos con 4 opciones de puntas
Cable para cargar Lightning a USB-A
Guía de inicio rápido
Tarjeta de garantía
Reseñas
66% of reviewers recommend this product.
Problems after warranty expiration.
UnhappyBUD . 12 días hace
Initially I enjoyed them.
When the warranty expired, problems began!
I have to check before anticipated use to be certain both buds charged.
Now the problem has escalated to the point where I have great difficulty getting one of the buds to be recognized by the cell.
Frequent cleaning of contacts doesn't alleviate the problem(s).
These were expensive.
Time for new buds but not Beats!
Not worth the price
They are decent headphones, but the older power beats are much louder with a deeper base.
For the price I'm very disappointed.
Were it not for me paying for these by way of a Verizon rebate I'd return them.