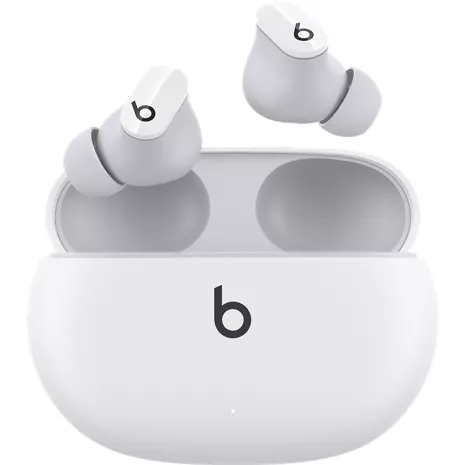 Pestaña Resumen seleccionada 1 de 4
Inicio de sección Resumen
True wireless noise-cancelling Beats Studio Buds are made for music. Designed with a custom acoustic platform, Beats Studio Buds are engineered to deliver powerful, balanced sound in a compact, in-ear form factor. The result immersive sound that pulls the emotion of the music from the studio to your ears to keep you inspired.
Driven by premium sound.
A proprietary, dual-element diaphragm driver resides within a 2-chamber housing, resulting in clear sound with outstanding stereo separation.
Control the noise.
Active Noise Cancelling (ANC) continuously blocks unwanted outside noise using a finely-tuned filter that dynamically adapts to your surroundings. Switch to Transparency mode at the press of a button to hear the world around you.
Power your day.
The earbuds have up to 8 hours of listening time¹ with 2 additional charges with the charging case.¹ If you need a little extra juice, 5-minute Fast Fuel charging gives up to 1 hour of playback.¹
Choose your fit.
3 soft, silicone eartip sizes give you a customized fit and create an acoustic seal for an immersive listening experience. The earbuds themselves offer an IPX4 rating for sweat and water resistance.
4
Keep the connection.
With Class 1 Bluetooth® technology, Beats Studio Buds offer an extended wireless range and fewer dropouts. Dual-beam forming microphones target your voice and filter out external noise. Customize the Press and Hold function of your on-ear controls to work for either ANC or your voice assistant.
6
Compatible with Apple and Android.
The Beats app for Android³ provides built-in controls, device status and firmware updates. It's built in to iOS for Apple² devices. You can also activate Siri hands-free.
5
¹ Testing conducted by Apple in April 2021 using preproduction Beats Studio Buds and Charging Case and software paired with iPhone 11 Pro Max units and prerelease software. The playlist consisted of 358 unique audio tracks purchased from the iTunes Store (256-Kbps AAC encoding). Volume was set to 50% and Active Noise Cancellation and Transparency were turned off. Testing consisted of full Beats Studio Buds battery discharge while playing audio until the first Beats Studio Buds stopped playback. The drained Beats Studio Buds were charged to 100 percent, then audio playback was resumed until the first Beats Studio Buds stopped playback. This cycle was repeated until both the Beats Studio Buds and charging case were fully discharged. With Active Noise Cancellation turned on, listening time was up to 15 hours. Battery life depends on device settings, environment, usage, and many other factors.
² One-touch pairing requires iOS 14.6 or later.
³ Fast Pair requires location enabled. Full access to features requires an Android 6.0 or newer device with Google Play Service enabled and Google Account.
4 Beats Studio Buds are sweat and water-resistant for non-water sports and exercise.
Beats Studio Buds were tested under controlled laboratory conditions, and have a rating of IPX4 under IEC standard 60529.
Sweat and water resistance are not permanent conditions and resistance might decrease as a result of normal wear.
Do not attempt to charge wet Beats Studio Buds; refer to https://support.apple.com/en-us/HT209542 for cleaning and drying instructions.
The charging case is not sweat or water-resistant.
5 Siri may not be available in all languages or in all areas, and features may vary by area.
Internet access is required.
Cellular data charges may apply.
6 Press and hold feature customization requires an iPhone running iOS 14.6 or later, or an Android device with the latest version of the Beats app installed.
Reseñas
55% of reviewers recommend this product.
Loose in the ear
Have a hard time keeping them in my ears
Nice headphones
Sí, recomendaría este producto.
Good sound and fit. Battery life is pretty good too, would recommend