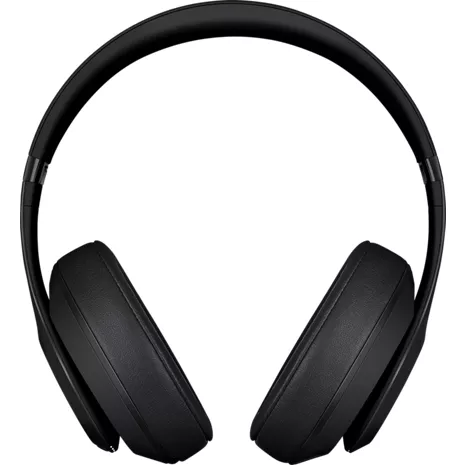 Precio
$274.99
Pricing reflects 21% savings.Details
Pestaña Resumen seleccionada 1 de 4
Inicio de sección Resumen
Experience next-level noise cancellation with the Beats Studio3 Wireless Headphones. With the Apple W1 chip and up to 22 hours of battery life,* it lets you listen to crisp, high-quality sound you can enjoy day and night.
More music. Fewer distractions.
Get closer to your music. Pure Adaptive Noise Canceling (ANC) actively blocks outside sounds and distractions, making it easier for you to concentrate on what's important.
Optimized sound.
Pure ANC calibrates your audio in real time, preserving your music's clarity, range and emotion for a truer listening experience.
The Apple W1 chip.
Advanced pairing features allows for effortless setup and switching between Apple devices.† The Apple W1 chip is built for efficiency and gives your headphones up to 22 hours of continuous playback or up to 40 hours on low power mode.‡ Low on battery and short on time? Fast Fuel gives you up to 3 hours of battery with just 10 minutes of time, letting you charge up without slow down.
Comfort and control.
Listen to your music in comfort, track after track. The Beast Studio3 Wireless Headphones weren't only built for long-lasting comfort. Their over-ear design also assist in noise cancellation. And with the on-ear multifunction button, you get easy control over your phone calls, music, Siri and more.§
* Usage based on average user profile. Actual battery life depends on factors such as network, features selected, frequency of calls, and voice, data and other application-usage patterns. Results may vary.
† Requires iCloud account and macOS Sierra, iOS 10, watchOS 3 or later versions.
‡ Low power mode requires Pure ANC to be turned off.
§ Siri is a trademark of Apple. Apple products sold separately.
Reseñas
81% of reviewers recommend this product.
I was waiting for these
Sí, recomendaría este producto.
Between Bose and Beats are both my go to the only way to be Bose 700 I'll get later but right now I've always been a studio 3 person you can't go wrong with either for different reasons so whoever is in the fence just try them out don't get to technical because you won't enjoy them off keep saying this or that just be quiet and Listen To the Dxxx music 😂😂😂😂😂 I'll come back and show y'all my pic when they get here
They are as good as any
Susan Park . 6 meses hace
Sí, recomendaría este producto.
They are good for what I use them for at work. I have to be in meetings all day and wanted the comfort of something wireless since they are making fewer ports on laptops these days. The good: they are comfortable overall. They are secure when on and don't budge. The cons: like any headphones, they make your ears feel hot. As for sound, I think it's fine. As for the headband.. my hair is ALWAYS messed up after use if I have a ponytail or bun. Lol.