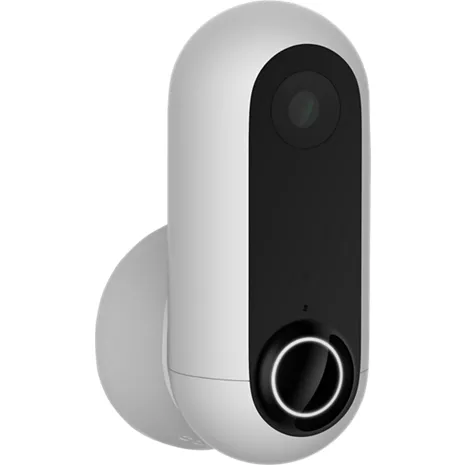 This item is currently only available for Express Pickup. 
Select a store to continue.
Pestaña Resumen seleccionada 1 de 4
Inicio de sección Resumen
Canary Flex™ is a truly versatile, all-weather HD security camera that's ideal for both outdoor and indoor use. Use it wire-free, or plug it in. Position it upright, or mount it on a wall. Whether you place it outside your front door or in the baby's room, Canary Flex will send an alert directly to your phone whenever it senses unexpected activity. Watch in real time or on recorded video. Canary's award-winning design blends in for added security.
HD camera with night vision.
Clearly see what's happening, even at night. The Canary Flex Weatherproof HD video camera has automatic night vision, a wide-angle 116° lens and motion detection to capture every movement. The high-quality microphone picks up crystal-clear audio. Weatherproof* for use outdoors.
Easy to set up.
Canary Flex operates using your Wi-Fi, which means no wiring is required. All you need is your broadband Internet connection and your own iPhone® or Android™ device.
Extended-life rechargeable battery.
Use wire-free with the long-life lithium-ion battery, or power Canary Flex uninterrupted with the included AC power adapter and 8-foot cable.
Security and storage.
Canary goes the extra distance to keep your data secure with a dedicated encryption chip, AES 256-bit data encryption and encrypted cloud storage.
WHAT'S IN THE BOX
One Canary Flex, AC power adapter with 8-foot cable, 360° magnetic swivel base, wall-mounting hardware
Reseñas
50% of reviewers recommend this product.
Extremely disappointed in this camera would stay far away from
At first it seemed great because it was battery operated and I could connect to WiFi. I tried to switch wifi as I was using a WiFi that was cellular data while my house was being remodeled. Once I had my regular WiFi running it is almost impossible without emailing not even being able to call canary. You have to do a bunch of steps to switch networks that it runs off of. I would assume that with there being an app it would be as simple as switching or resetting a setting inside the app but this is not the case. The night time video is mediocre at best. If you anticipate on using this for good quality video you will be disappointed.
This is just waste.
They promised that there will be two way voice will be available. Last one year and never happened. Go for other brands. Other day saw a product in costco camera with light looks promising
Canary - 5 years ago
Hello Amit. Two-way Canary Talk is indeed available on the Canary Flex camera as of August 2017. You can read more details here: https://blog.canary.is/introducingcanarytalk/