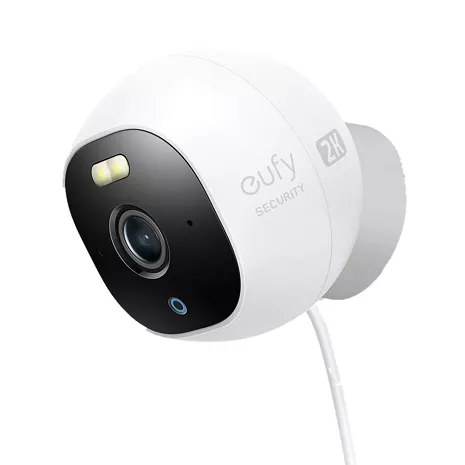 Pestaña Resumen seleccionada 1 de 4
Inicio de sección Resumen
Keep an eye on your home with the Outdoor Cam Pro Wired 2K Spotlight Camera.
This 2K wired security camera is built to withstand the elements with an IP67 weatherproof rating.¹ And, you can get instant notifications so you can check in, even while on the go.
Advanced Person Detection.
Don't waste memory on every rock and critter.
The on-device AI determines whether there's really a human there, and only records when something of interest is happening.
Communicate from your camera.
Speak in real-time to anyone who comes by.
A built in microphone and speaker allows for 2-way audio through your Outdoor Camera Pro.
Color night vision.
¹ IP67 waterproof rating.
Can be immersed in water up to 1m for up to 30 minutes.
Reseñas
100% of reviewers recommend this product.
Easy to install, simple
Sí, recomendaría este producto.
[This review was collected as part of a promotion.]
This was an easy to install product; it detects movement very easily, and I get notifications with a clear image right away.
It is simple but does the job,and that's really what I need.
However what I don't like is that the app on my computer doesn't allow me to to the same as my app on my phone, and since I'm on my computer more, that's a negative for me.
anker.com Publicado originalmente en anker.com
Great spotlight cam for security
Sí, recomendaría este producto.
[This review was collected as part of a promotion.]
The eufy 2k spotlight cam was a must have in today's world we got ours to help protect our home and family I love that it's small and compact and came very well secured in it's packaging so everything was safe and secured inside the design is very sleek also and inside the box you will see it comes with a mount that is magnetic that holds the camera I thought that was a little different we haven't had any issues as of yet with it but I must say I'm worried about in the future how it will hold up with being an outdoor cam this can also comes equipped with a 32gb memory card that is included I thought that was a good quality as it's ready for use straight out the box and you do not have to pay any monthly in or yearly subscriptions like you do with other security cam companies I also like that this can can identify when there is a person in range and will alert you and like I said previously this camera comes with a magnetic mount an also a 20 foot cord making for easy installation as we installed our at the peak of our garage because we have an appointment above the garage so we installed it outside of the window that way it was facing the whole driveway and we could see anything that was going on around our property I also love the fact that I can use this camera with ease with my Google an Alexa devices so it makes it more compatible for the whole family to use with the 32 gb card that comes with it you can get about 3 days of video but if you buy a separate 128 gb card you can get about 2 weeks of video use from it so I highly recommend buying a bigger card this camera also provides night vision and comes on when the spotlight comes on you can set a timer for the spotlight to only come on at certain times or you can set it to come on whenever there is motion or noise overall this camera is a pretty good addition to our home security an I look forward to purchasing more to add
anker.com Publicado originalmente en anker.com