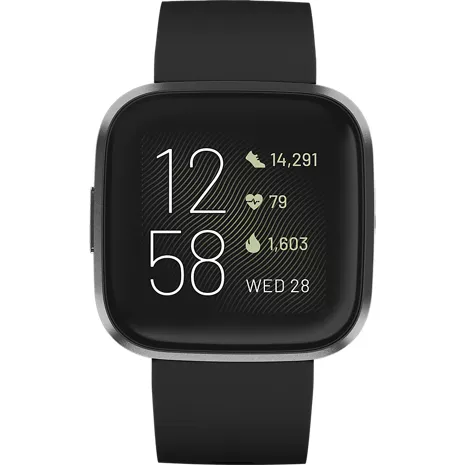 Pestaña Resumen seleccionada 1 de 4
Inicio de sección Resumen
The Fitbit Versa 2™ is your all-day fitness companion for recording workouts, heart rate zones, sleep patterns and more. Get access to up to 300 of your favorite tunes, enjoy fun apps and receive personalized insights with a lightweight and durable smartwatch designed to help you reach your goals.Fitbit is part of the Google family.
Personalized guidance.
Get individualized support with guided workouts that adapt according to your feedback. Discover your cardio fitness level and real-time heart rate zones, follow trends over time, and continuously record your heart rate with 24/7 heart rate monitoring. With 15+ fitness modes made for a variety of different activities, you can easily track your progress. The Fitbit app tracks female health by logging periods, recording symptoms, tracking ovulation and discovering cycle patterns.
All-day access.
Stay active with a lightweight smartwatch that remains comfortable throughout your daily routine. Track your daily progress in steps taken, distances traveled, calories burnt, floors climbed and minutes active, and even record how much light, deep and REM sleep you're getting per night. The Fitbit Versa 2's bright colors and larger display make it easy to view day or night.
More features at your fingertips.
Stay in the loop using helpful apps for weather, sports and more. Amp up your next trip to the gym with music from your Fitbit's music library, or create an epic playlist using Pandora* or Deezer. Purchase those new kicks right from your Versa 2 smartwatch using Fitbit Pay or receive call and text notifications without having to check your phone.
Hands-free, hassle-free.
Want to check the weather before your morning run? Or, maybe you want to set a timer for a 2-minute plank? You can do that and so much more with Versa 2's Amazon Alexa built-in voice control. Keep your hands free so you can get more done.
Powered up day and night.
With up to 4+ days of battery life, the Fitbit Versa 2 can track your routine from day to night and everything in between.†
*A Pandora subscription required to download stations.
†Battery life and charge cycles vary with use, settings and other factors; actual results will vary.
Requires use of Fitbit app with compatible iPhone or Android devices. A Google account will be required.
Reseñas
59% of reviewers recommend this product.
Breaks easily horrible customer service by Fitbit
My husband owned three of these and every time the face fell off after less than a year of wearing. Horrible customer service done with Fitbit
Nice, BUT....
The APP for this watch(&there IS only 1!), has been receiving Negative reviews for over a Year, & no improvement has been shown. IF the app downloads to your phone, you will never have a decent Bluetooth connection, unless to restart the app every day..., So most the stats stored online, are inaccurate & sleep won't work either, so unless your OK just your pulse, #of steps & the time of day, that's all you can really count on from the phone, DUE TO THE FAULTY REQUIRED APP from Fitbit/zebb.