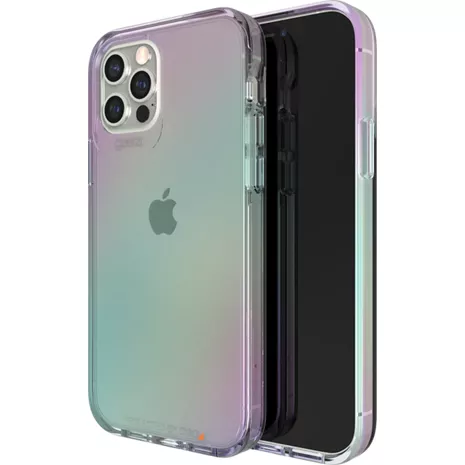 This item is currently only available for Express Pickup. 
Select a store to continue.
Pestaña Resumen seleccionada 1 de 4
Inicio de sección Resumen
Go clear with the transparent and protective Crystal Palace Case for iPhone 12/iPhone 12 Pro. With up to 13 feet of drop protection² and advanced D3O® material, it helps keep your smartphone safe from bumps, scrapes, impact damage and more.
And, built-in antimicrobial protection kills up to 99.9% of surface bacteria, keeping your case clean.¹
Proven to protect.
Count on the proven toughness of D30 energy-absorbing material, scientifically engineered to defend against shocks, knocks and drops.
Gear4 cases preserve your phone with the same technology used by athletes, soldiers and motorcyclists for gloves, helmets and other protective materials.
Keep charged.
No need to remove your case.
The Crystal Palace is wireless charging compatible, so you can refuel on contact using any compatible accessory.³
Slim and lightweight.
Show off the sleek design of your smartphone with a lightweight case that easily fits inside your pocket or purse.
High-quality materials like polycarbonate, TPU and D30 keep your device lightweight while still protecting it against damage.
Anti-yellowing technology.
The Crystal Palace Case features natural non-yellowing properties and dye transfer resistance for maintaining its pristine, crystal-clear transparency.
1. NBD Nanotechnologies, Inc. testing, Dec. 23, 2019.
Anti-bacterial agents are applied to the product; they do not directly protect the user from any exposure to bacteria or provide additional health benefits.
2. Based on independent testing.
3. Wireless charger sold separately.
Reseñas
52% of reviewers recommend this product.
Very bad quality
Kameliya S. . 5 meses hace
I must say I am extremely disappointed with its quality.
After just a few weeks of use, the plastic on the case started to break off, leaving it in a bad condition.
Additionally, the case got scratched incredibly easily, and it now looks worn and unappealing.
Considering the price I paid for this case, I had high expectations for its durability and overall quality.
Unfortunately, it fell far short of those expectations.
The fact that a supposedly high-end case from a reputable brand could deteriorate so quickly is simply unacceptable.
Not only did the case fail to protect my iPhone adequately, but it also failed to live up to the brand's reputation.
I expected a premium product that would offer both style and protection, but what I received was a flimsy, fragile case that quickly lost its appeal.
I cannot recommend this particular iPhone case to anyone.
In conclusion, this expensive iPhone case did not meet my expectations in terms of quality, durability, and overall value.
Its plastic broke off within weeks, it easily acquired scratches, and its appearance quickly deteriorated.
Save your money and look for a better alternative!
zagg.com Publicado originalmente en zagg.com
Clear case
Nice clear case that is iridescent and looks great for summer!
zagg.com Publicado originalmente en zagg.com