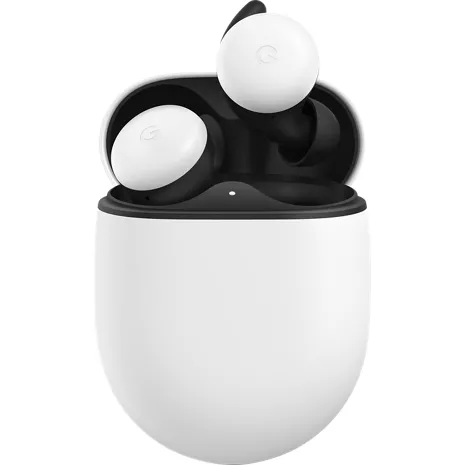 Pestaña Resumen seleccionada 1 de 4
Inicio de sección Resumen
Brilliant sound, all around.
Spatial vents reduce the plugged-ear feeling. 12 mm custom speakers deliver powerful sound. Adaptive Sound
1 dynamically adjusts the volume as you move from a quiet to noisy environment.3 (Android only.)
Be heard anywhere.
Mics focus on the sound of your voice. A voice accelerometer detects speech, so you can be heard even in noisy conditions.
Personalized for your comfort and style.
Ergonomically designed, Google Pixel Buds come with 3 eartip sizes. The stabilizer arc gently tucks in your ear to stay comfortably in place. With an IPX4 rating, they're water and sweat-resistant, so rainy days and sweaty workouts are no problem.
7
Get help here, there, and everywhere.
Talk to the Google Assistant
2 right from your Pixel Buds or press and hold the earbud.
Get real-time translations2 of up to 40 languages with a Pixel or Android 6.0+ device.
(Android only)
Seamless listening.
Pixel Buds start playing when they're in your ear and pause when they're out — or use touch controls to play or pause. Get up to 24 hours of playtime with the wireless charging case
6
Cut the cord.
Long-range Bluetooth lets you use them even when your phone is up to 100 yards away outdoors.
4 Pair with Android, iOS, or any Bluetooth 4.0+ device — and Pixel pairs with just one tap.
1Call quality depends on signal strength, environment, and many other factors.
Actual results may vary.
2Google Assistant requires an Assistant-enabled Android 6.0+ device, Google account, and an internet connection.
Data rates may apply.
For available Assistant/translator languages and minimum requirements go to g.co/pixelbuds/help.
3Adaptive Sound requires a phone running Android 6.0 or newer to enable the feature.
To prevent possible hearing damage, avoid listening at high volume for prolonged periods of time.
4Building materials and layout, physical obstructions, interference from other electronic devices, and many other factors can affect how a Bluetooth signal travels.
Different devices may have different ranges.
Actual results may vary.
5Compatible with Bluetooth 4.0+ enabled device.
Full access to features requires a Google Account, Assistant-enabled phone running Android 6.0+, location enabled, and internet connection.
For phones supporting Fast Pair go to g.co/pixelbuds/help.
6All listening times are approximate and were tested using music playback on pre-production hardware and software.
Battery life depends on device, features enabled, usage, environment and many other factors.
Actual results may vary.
7Google Pixel Buds have a water protection rating of IPX4 under IEC standard 60529.
Water resistance is not a permanent condition and may be compromised by normal wear and tear, repair, disassembly, or damage.
Reseñas
57% of reviewers recommend this product.
Always turning off and turning back on while on the phone
I usually use one of my earbuds at a time because I'll be at work. Every time I use them it never fails that whatever earbud I have in will cut out for could be up to 30 seconds at a time until it reconnects to my phone. I do have a pixel phone so I figured these would be best suited for me. I could be talking to somebody and then all of a suddenly The earbud that I have in my ear will just turn off and I'll tap it and Nothing happens. It'll say I have 90% battery on that side. It's really a pain in the butt because it happens a bunch of times throughout the phone call. I can't believe I paid that much for something I have to tinker with a bunch of time during a call.
Google Team - 1 year ago
Hi Tee Tee, thanks for sharing your feedback on Pixel Buds, and we're sorry to hear of your poor experience with its performance and connectivity.
We suggest trying these troubleshooting tips that might improve your experience:
- Check the connection between your Pixel Buds and the host device.
- Move away from other devices that could cause interference.
- "Forget" your Pixel Buds from your source device.
- Make sure to have the updated firmware version: https://support.google.com/googlepixelbuds/answer/9642078
- Reset the earbuds and restart the source device: https://support.google.com/googlepixelbuds/answer/9642886
Your experience matters to us. If the issue persists, we have specialists always available to help you here: https://support.google.com/googlepixelbuds/gethelp
Great product, couple flaws
Sí, recomendaría este producto.
The sound quality and features are fantastic the only problem I'm having is the displayed 5 hour battery life but mine seem only to last an hour and a half at most
Google Customer Care - 2 years ago
Hi MrFaceDude, thanks for bringing this to our attention. We're sorry to hear that your Pixel Buds have short battery life. Please check the following steps that might be helpful: 1. Make sure that the Pixel Buds' firmware version is updated: - Tap More settings. - Tap Firmware update. - At the bottom, below each component (left earbud, right earbud, and charging case), you'll find the serial numbers, device firmware status, device firmware version listed. - Tap the toggle to turn Automatic updates on. - Ensure that both the earbuds and charging case have enough charge (above 20%) for Over-the-air auto-updates to happen. 2. Reset the earbuds and restart your source device: - Place the earbuds in the charging case for one minute, then remove them. - Reset the Pixel Buds. - Restart the source device. If unresolved, we'd love to know more about what is going on with your Pixel Buds and see how we may be able to improve your experience. You can reach out to our support team here: https://support.google.com/googlepixelbuds/gethelp
Google LLC Publicado originalmente en Google LLC