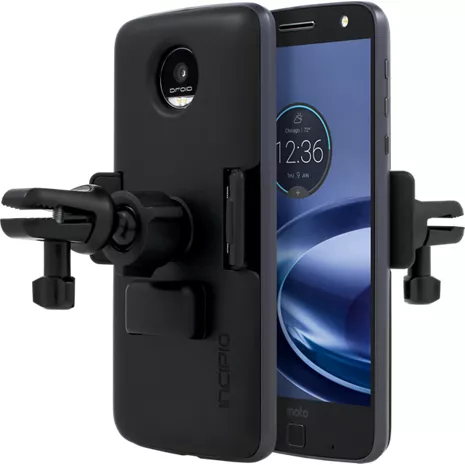 Devoluciones gratuitas en el plazo de 30 días.Detalles
Disfruta de una experiencia verdaderamente fácil de usar con el Moto Z en el auto con la base para auto Incipio. Diseñada para teléfonos compatibles con Moto Mods, esta base combina navegación y llamadas, integración de audio y carga rápida, todo en una sola unidad. Mantente concentrado en el camino usando la interfaz simplificada y los sencillos comandos de voz de Android Auto.™*

Mantente entretenido.
Escucha tu música y podcasts favoritos, y más. La base para auto Incipio para el Moto Z se conecta al sistema de audio de tu auto usando un cable auxiliar (se vende por separado).

Mantente concentrado.
La función de comando de voz de Android Auto te facilita encontrar tu destino, controlar la música o responder a un mensaje mientras sigues haciendo lo más importante: conducir.

Ten carga.
La base para auto para el Moto Z admite hasta 15 W de carga rápida con un adaptador de corriente para auto compatible (se vende por separado).
Reseñas
6% de las reseñas recomiendan este producto.
Great Dock Bad Mount sssss
Computer Rich . 2 años hace
Sí, recomendaría este producto.
I've had 2 of them for years and I LOVE the dock. I HATE the mount like everyone else. On one of them I used a better mount after sanding the ball down to fit the dock socket. I wish they would come up with a better/stronger mount or be more compatible with other mounting systems. The other annoyance is the auto-launch Android Auto that cannot be turned off no matter the setting. I have all the settings off and it launches anyway. Fix these 2 things or at least the mounting problem and I would offer them at my store.
Excellent Accessory - Unfortunately, it's expensive and fragile. sssss
I purchased this unit in Dec of 2017. Unlike others, I found the vent clip relatively easy to use. I've attached this to the air vent of a 2011 Jeep Grand Cherokee and a 2018 Ford Explorer. It's no harder than any other vent clip that I've found. On the Ford Explorer, I found the vent clip was wide enough that I could attach it to the center dash console door, which I loved because I could keep the USB wire out of site. To use it, you take the back off your MotoZ and attach the phone to the Incipio Car Dock. Couldn't be easier. The reason for the low score is that the mount breaks easily. As I said, I purchased this back in November and within 2 months, the mount broke. I thought I may have been too rough with it when unmounting the phone but fortunately, Verizon replaced it at no charge. Another 2 months have gone by, and it has broken again. This time I was simply getting something out of the console and barely touched the phone. I have not yet reached out to Verizon but will do so shortly.