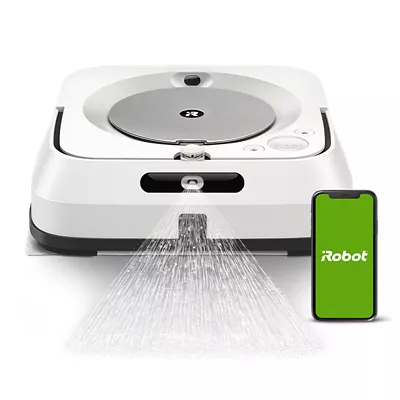 Keep your floors clean with the Braava jet® m6 Wi-Fi Connected Robot Mop. This reliable robot mop features precision jet spray to tackle sticky messes, grime and kitchen grease.¹ It's great for multiple rooms and large spaces with intelligent navigation to learn each room. La trapeadora limpia siguiendo un patrón eficiente mientras se desplaza alrededor de muebles, alfombras y otros obstáculos. Y vuelve a la base de carga Home Base para cargarse y seguir limpiando.
Trazado de mapas inteligente Imprint.
The Braava jet® m6 Robot learns your home and remembers your rooms. Y puedes emparejarla con las aspiradoras robot de las series i y s para que comience a fregar después de aspirar con la tecnología Imprint Link.
2 modos de limpieza.
Las almohadillas de trapeado cuentan con fibras absorbentes que ayudan a disolver los residuos pegajosos. Las almohadillas de barrido en seco usan fuerza electrostática para capturar la suciedad, el polvo y el pelo de las mascotas.
3 pasos sencillos.
Comenzar es muy fácil. Simplemente coloca la almohadilla de fregado o barrido en seco a la trapeadora robot, agrega agua y/o una solución limpiadora y oprime Clean (Limpiar).
Control manos libres.
The iRobot® HOME app allows you to control your mop right from your phone. Y puedes dar órdenes con ayuda de Amazon Alexa y el Asistente de Google.
¹
Probada en el modo de limpieza puntual.
Reseñas
518 reseñas
de las reseñas recomiendan este producto.
!!! DO NOT PURCHASE !!!
Buyer BEWARE!! The mop is not made to last and their customer service is worse!!! We have had to have our $500 unit replaced several times and always ends up failing. I never asked for anything for free, never asked for our money back, simply want what I paid for to work. Spent hours on the phone troubleshooting with multiple representatives/managers, was hung up on multiple times, undermined and untimely resulting in being told there is nothing that can be done and we need to purchase another unit. Save your money!! Hopefully this review will stop the next person from purchasing!!
Hi Kayla, we are really sorry to hear about the situation. This is definitely not the experience we want our iRobot family to have, and we'd love the opportunity to turn it around. We have just e-mailed you in order to help out.
Would not buy this again
Like several reviews here I loved this mop when I first got it. Ordered as a package along with the vacuum and automatic emptying station. About a year in I started having issues. It stopped reporting when the tank was empty and kept mopping when empty. CS and online FAQs weren't able to help. It sort of started working ok and I monitored the tank whenever in use. Then it stopped charging. Tried all the suggestions. Also bought a new battery. That seemed to help for the next few times I used it. Then stopped charging. After many resets and cleanings it seemed to work again. But only for a little while. Now a few months out of warranty it seems dead. Won't connect. Occasionally flashes a white light ring but generally won't respond. This is not an inexpensive item but now I'm faced with replacing it or giving up on the robot mop all together. Very disappointed. The vacuum is great. Too bad the mop isn't the same quality
Hi iRobot Customer, thank you for letting us know about your situation. This is definitely not the experience we want for our iRobot family, and we'd be happy to provide you with a proper solution for this issue. We have just e-mailed you, so we can help out.