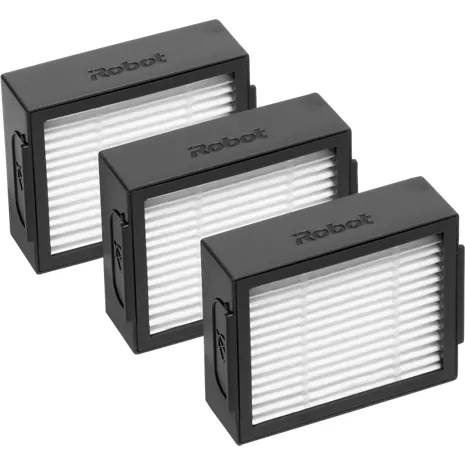 Free returns within 30 days.Details
Pestaña Resumen seleccionada 1 de 4
Inicio de sección Resumen
Maintain quality cleaning with the Roomba High-Efficiency for Roomba e, i, & j series, 3-pack. These high-efficiency replacement filters capture up to 99% of cat and dog dander allergens. Replace your robot's filter to help maintain optimum cleaning performance for a clean home. The filters are only compatible with Roomba e, i and j series robot vacuums.
Reseñas
71% of reviewers recommend this product.
A drawing of how open and remove the filter would be great.
Trying to find and remove some parts can be difficult. I don't want to pull too hard and break something. Drawing would be helpful.
IRobotPWR - 1 year ago
Hi iRobot Customer, we are really sorry to hear about the situation. This is definitely not the experience we want our iRobot family to have, and we'd love the opportunity to turn it around. We have just e-mailed you in order to help out.
store.irobot.com Publicado originalmente en store.irobot.com
Hummm, 4.5 Stars
Iwer and I dry . 1 año hace
Sí, recomendaría este producto.
I do really love my robot, but a man must of come up with the rubber rollers. I get my filter queen out every couple months to do edges and power head ( "with real brushes") does fluff up my carpets better. You should give the customer an option of type of brushes. The price of the filter is ridicules, like any smart woman, I too clean out and reuse them. Prefer timed setting for better performance. I set carpet cleaning on Monday and Thursday, hard floors on Tuesday and Friday (More often when shedding time). Recessed family room on Saturday or Sunday, when I am home. I would have given a five if: Brush roller, bulk prices on filters, better edge cleaner. I mop needs a lot of assistance room to room.... She won't go over the carpet to get to the bathrooms, nor kitchen over divider to dining room.
store.irobot.com Publicado originalmente en store.irobot.com